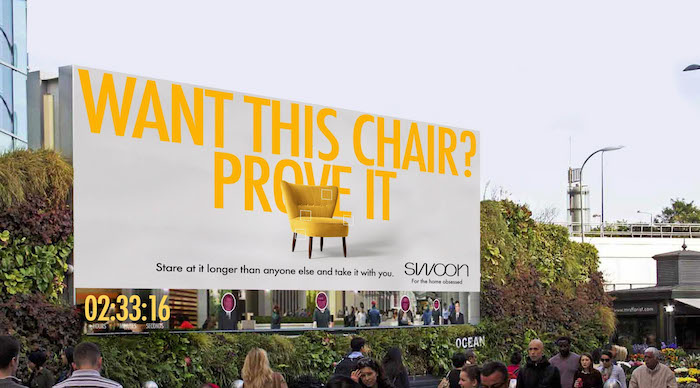 BBH and St Luke's Communications have been awarded the top prizes in Ocean's ninth digital creative competition for out-of-home concepts created for the furniture retailer Swoon and The National AIDS Trust.
BBH takes the top brand prize with Swoon – Obsessed, a stylish game which uses Ocean's responsive screen technology to tap into peoples' passion for great interior design pieces. The longer people stare at a chosen item of furniture on a screen, the greater their chances of winning it.
Created by St Luke's Communications, Rock the Ribbon uses Ocean's motion gesture technology to transform people into virtual dancing red ribbons as they perform in front of a screen. The campaign, which supports The National AIDS Trust, takes the top charity prize.
There were also awards for McCann London for Microsoft Xbox, Drum – Omnicom Media Group for Škoda, ALLGOOD for the CyberSmile Foundation and Partners Andrews Aldridge for the Spinal Injuries Association.
Ocean CEO Tim Bleakley said: "Ocean organises this competition to challenge brands and agencies to reimagine the creative possibilities of digital out-of-home (DOOH). This year we have received record entries and some stunningly simple, bold ideas which do just that.
"The winners are striking for their visual impact and the innovative use of DOOH technology to meet business objectives. All of them show how technology can engage with audiences in imaginative and immediate ways. I look forward to seeing their concepts brought to life."
New for 2018, Ocean also called for ideas which align brands or charities with its Ocean for Oceans initiative which is using Ocean's screens to help turn the global tide on plastic to stop it polluting the world's seas.
The two winners in this category are Glimpse for Sea Change and 23Red for City to Sea.
Competition was stiff, with a record 150 entries which were judged by a panel of 18 advertising industry experts.
The awards were presented before an invited audience at London's IMAX on October 11. The winners share a £650,000 prize pot and the chance for their work to be showcased across Ocean's iconic UK DOOH locations.
Winners
First Prize
Brand: Swoon – Obsessed
Agency: BBH
Swoon is a furniture company for the home obsessed. Using Ocean's eye-tracking technology, different pieces of furniture are displayed on Ocean screens. Whoever stops and stares at a particular item the longest, proving they are the most obsessed, wins that piece.
The judges said: "It's very simple and we see it working well on big formats. Staring at the screen….it's absolutely right for the brand and will look beautiful on out of home."
Second Prize
Brand: Microsoft Xbox – Xbox Gaming Tourism
Agency: McCann London
To promote their better-looking Enhanced games, Xbox turns DOOH screens into immersive portals between the real and virtual worlds. Live streamed tours hosted by a guide use Ocean's LookOut technology, allowing people to explore breath-taking virtual landscapes, control the game camera at points of interest and ask questions. The judges said: "It's a window into a world which moves with you. If games and gaming surpass movies in terms of the immersive experience, then the idea of entering imaginary worlds is quite cool. It will be spectacular."
Third Prize
Brand: Škoda – Rally Sport Live
Agency: Drum – Omnicom Media Group
Škoda dominates the world rally championship but few people associate the car brand with performance. Using Ocean's live stream and sound shower technology, Škoda streams the drama of the Dayinsure Wales Rally GB to an Ocean screen, paired with a Škoda Motorsport bucket seat which is rigged to respond to every twist and turn of the Fabia as it competes. The judges said: "This realises the experience of being in an actual rally. There's quite a lot of joy in that. Watching someone being chucked about is very entertaining. It is simple and very sticky."
Charity Winners
First Prize
National AIDS Trust – Rock the Ribbon
Agency: St Luke's Communications
The National AIDS Trust uses World AIDS Day to imbue its red ribbon with a brilliantly original sense of positivity and spirit. Motion gesture technology is used to transform people into virtual red ribbons which dance on the screens, mirroring the participants' gestures and moves.  The judges said: "It's so simple, people will do it and get involved. The ribbon is doing something fresh, interesting and cool. It's very shareable as well."
Second Prize
The Cybersmile Foundation – #DeleteTheHate
Agency: ALLGOOD
On Stop Cyberbullying Day, messages of hate will appear in real-time, with facial detection cameras grabbing snapshots of passers-by whose "profile picture" will appear in the message as if it's aimed at them personally. The screen then changes to explain the cyberbullying message and invites everyone to #DeleteTheHate by spreading awareness. The judges said: "This campaign has the potential to do something really brave. It uses the medium to all its strengths and the fact that it includes people makes it even more powerful. The changing of the message from negative to positive could be a massive story."
Third Prize
Spinal Injuries Association – Donate to Accelerate
Agency: Partners Andrews Aldridge
In an advertising first, people are given the chance to fast-forward full motion ads on Ocean's Loop network. Filmed from a first person perspective, the ads immerse people in how arduous everyday tasks like making tea or catching a bus are for people with spinal injuries. Donations trigger the chance to fast forward the ad to a successful conclusion, showing how their support makes a difference. The judges said: "It's subtle, clever and very imaginative. The less obvious it first looks on the screen, the more it will attract attention. The ability to tap and donate to fast forward is nice and simple."
Ocean For Oceans Winners
Brand: Sea Change – The Sea Is the Sky
Agency: Glimpse
This campaign will promote the European Commission's Sea Change initiative which is looking to improve ocean literacy across the UK and Europe. This ambitious project aims to mobilise schools, citizens, industry and decision makers to think blue and protect the planet's oceans.
Charity: City to Sea – Hydration Station
Agency: 23red
This initiative turns selected Ocean screens into hydration stations where people can either refill their water bottles, or find out where find one of the nearest 12,000 refill locations using the Refill app. Each time the water fountain is used, one of the countless discarded plastic bottles littering the actual screen disappears and the user is thanked. A totaliser will show how many plastic bottles have been saved by switching to a cheaper, refillable bottle.  The judges said: "This is a great. It turns a poster into something useful and directs you to the app."