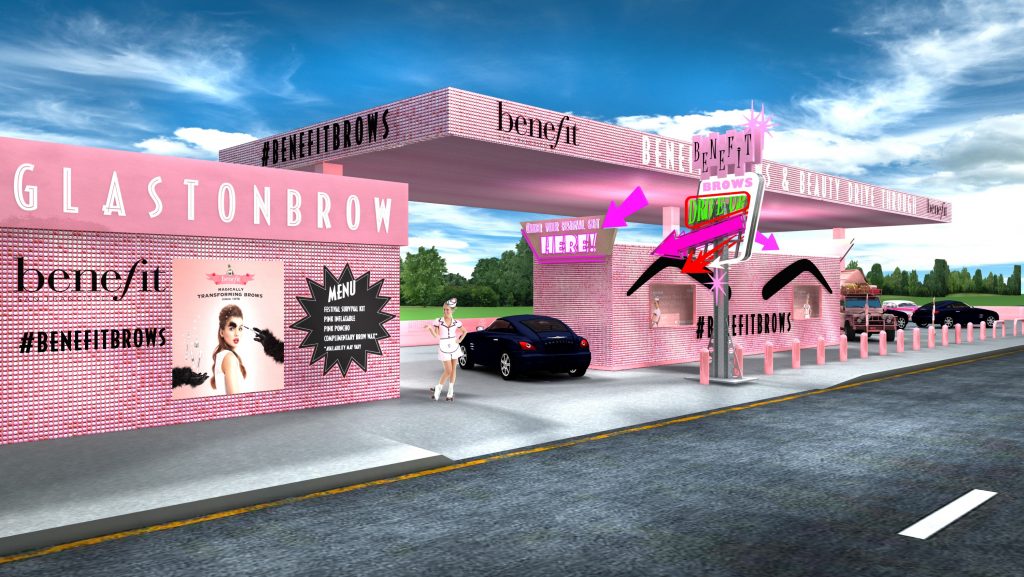 This summer, Benefit Cosmetics will launch GlastonBrow – the first brows and beauty drive-thru, which will be giving away free Benefit goodies, brow waxes and festival essentials, on the route to Glastonbury.
Experiential agency The Persuaders have designed and will be producing the drive thru, located on the main road to Glastonbury, GlastonBrow will be a glistening pink beacon, and will keep festival fanatics entertained with DJ's whilst waiting in the infamous traffic jams outside of the festival for two days from the 20th June.
Passers-by will be able to pull up to the window to receive the ultimate GlastonBrow drive-thru experience – they'll choose from a menu of brow-inspired gift options and drive-thru to the collection window where a Benebabe will deliver the free goodies. In addition, Benefit will also be giving away all of the necessary festival essentials for a weekend of glitter, flower crowns and music.
Following the GlastonBrow pit-stop – and once entering the Glasto grounds – music lovers who snap a pic of them with their festival gift from the drive-thru using the #BenefitBrows will be in the chance of winning a year's supply of Benefit's cult brow products.
The Persuaders' creative director Andy McDonald elaborated: 'As part of Benefit's 2017 campaign of 'The United Kingdom of Benefit' we've spent the year taking the brand to the people all across the UK and Ireland and our concept of Glastonbrow is the ultimate culmination of this activity.  A beauty drive-thru is a perfect fit for the brand and we're excited to bring this to life over the festival season.'
Benefit's head makeup artist and brow expert, Lisa Potter-Dixon explains: "Brows have the power to give you an instant eye lift and can totally transform your look. It doesn't matter if you've had years of over-plucking or are struggling with unruly and thick brows, our team can magically transform them into beautifully groomed arches. We're taking our signature technique and beloved brow experts to Somerset for all festival-goers to rock a statement brow to match their feathers and glitter – it'll be sure to get them into the festival spirit!"
Benefit has been transforming brows since 1976, during which time it has opened more than 1,500 brow bars across the globe. Having launched a 13 piece brow collection in 2016, the brand understands the importance of 'wow brows' and how they can truly transform someone's appearance.