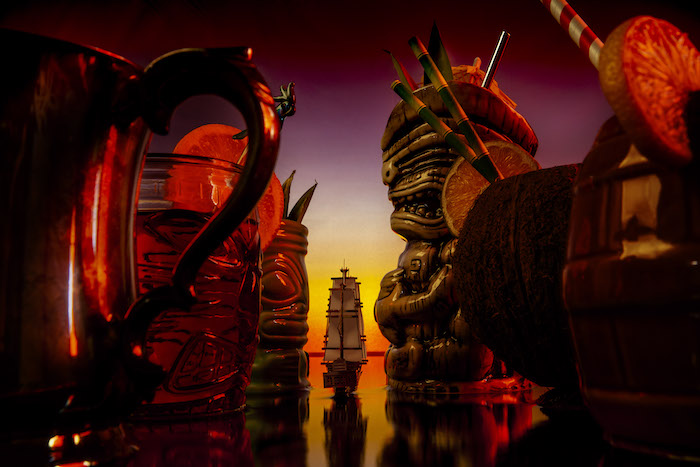 Bompas & Parr and Captain Morgan rum are taking Londoners on a nautical adventure to an underground paradise: the Lost Lagoon. Launching from 1st February until April 7th 2019, the ticketed event will open in a secret subterranean central London Landsec- owned location and offer the chance to leave the dark, dank English winter and set sail on a  journey of discovery.
With a plot inspired by the world's most famous buccaneer himself, Lost Lagoon represents a fantastical reinterpretation of the eponymous Captain Henry Morgan's world, and will require guests to explore a series of cocktail-based escapades as part of an extravagant immersive theatrical production. Budding buccaneers will navigate themselves by boat on an indoor sea to a series of islands. Along the way, they will receive rum-based rations and progressively accumulate the knowledge to make the finest rum punches.
Armed with their recipe, they will be able to decipher a treasure map to find Captain Morgan's ultimate hidden bounty – his island lair, a party palace for urban luaus set against a radical reimagining of tiki, reflecting a beach-meets-buccaneering lifestyle. Amid a party bar of rum-based drinks, features will include a whirlpool cocktail station, beach-inspired food and entertainment.
The experience is designed to refocus attention on one of the oldest mixed drink categories – punch – which was spread through maritime traditions like naval rum rations. Lost Lagoon is designed around guests collecting various ingredients required to make rum-based punches and will demonstrate just how easy it is to mix one together without obscure ingredients or complex techniques.
Harry Parr comments: "Expect a mix between your best desert island fantasy with punch quests and neo-tiki party vibes. This is set to be the most lavish experiential event for 2019 and our guests will help bring a party atmosphere and a bit of sunshine to gloomy London at the end of winter."