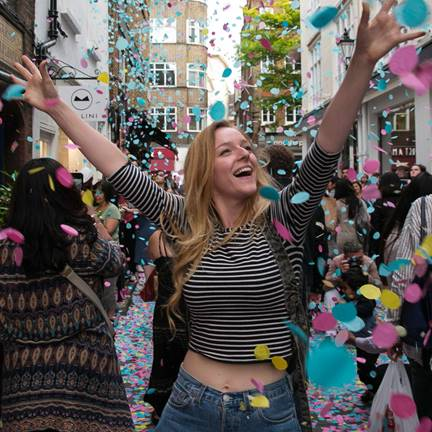 St Christopher's Place off Oxford Street in London will be showered with over three million petals on Wednesday 4th May for the Boots UK Petal Party to highlight the impact of night-time hayfever. or 'Insneezia' – the insomnia-esque effects of hayfever symptoms at night.
Under a sky of falling petals,  Lauren Pope from The Only Way Is Essex, will host a DJ set  to get people partying under the petals.
The hour-long Petal Party will start at 7pm with 3.25 million petals released at approximately 7.20pm (TBC).
As the air cools at the end of the day, pollen falls back down to ground level exacerbating symptoms, which can affect the quantity and quality of sufferer's sleep leading to a 'hayfever hangover effect' the next day. The Petal Party aims to raise awareness of how sufferers can tackle their night-time hayfever symptoms, so they can get a better night's sleep.
"Many hayfever sufferers lose sleep during spring and summer, when pollen falls as the evening temperature decreases" says Boots pharmacist Tom Kallis. "However, there is no reason why people need to let their hayfever have such an impact.  If hayfever does affect you at night time– you just need to remember to take action and treat symptoms in the evening, before you go to bed."