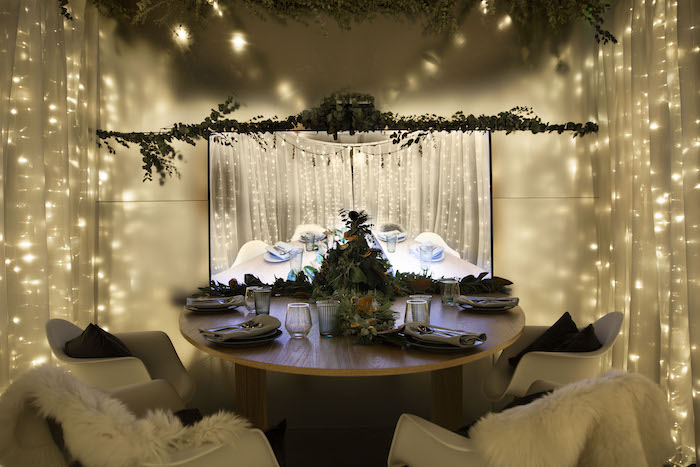 Reservations for this fully complementary dining experience were made online at TheConnectedRestaurant  by families separated between the two cities. Demand was exceptionally high, with enough table requests to fill the four day pop up for three months straight.
Combining the latest Samsung technology with Three's high-speed network, the two halves of the table will seamlessly connect across time zones, bringing friends and family together at a time when they feel the separation most. Diners will indulge in a festive three course menu together, and can also look forward to plenty of unique surprises that only The Connected Restaurant could cook up, including a bespoke photo booth that enables loved ones in Sydney and Dublin to have their picture taken together in real time.
Boys+Girls collaborated with innovation production studio, UNIT9, to create a high-tech experience where the technology effectively disappears for the guests to make a human connection. Multiple high-definition cameras and targeted microphones are synced instantaneously across the globe and relayed to the latest Samsung screens. Every element of the experience is seamlessly co-ordinated in both locations, from technology to table service, to ensure that the diners are connected as though they were seated at the same table.
This specially designed restaurant will be located on Clarendon Street in Dublin city centre with the other half on Holt St, Surry Hills in Sydney Australia. Boys+Girls will be launching a brand film featuring the best moments from the restaurant on 17th December.
Rory Hamilton, Boys+Girls executive creative director, commented: "A connected restaurant is the perfect way of bringing together families at Christmas, and also highlights Three and Samsung's brand positioning of connectivity. There have been obstacles involved in creating this experience regarding the technology, and tackling time differences, but we have decided to make a virtue of this and have even injected humour into the experience as well!"