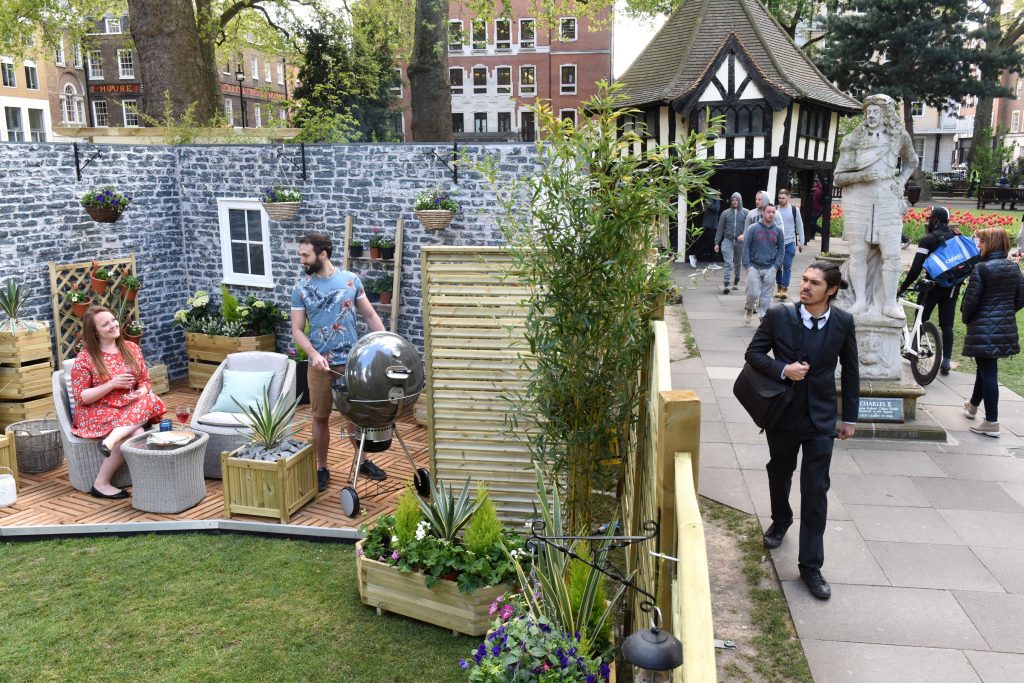 Britain's leading home improvement retailer, B&Q, is on a mission to inspire Londoners to discover the joy of gardening this April
B&Q will transform Soho Square into an Open Garden from 26th – 29th April
A new outdoor space in the centre of London to enjoy with friends, the Open Garden will feature delicious BBQ food, a botanical gin bar and live music
London is set to get a little greener this April as home improvement retailer, B&Q, opens the gates to the Open Garden, a new pop up outdoor space in Soho for Londoners to relax, enjoy and entertain in.
Best known for its 300 stores across the country and its experts in orange aprons, B&Q is bringing its garden expertise to the very heart of London for the first time. With the average new build garden now 40% smaller and a higher proportion of new homes now garden-less flats, the Open Garden is part of B&Q's mission to show how even the smallest outdoor space – whether it's a balcony or a window sill – can be transformed into a green haven.
Open every day from 10:00, visitors can drop into the pop up space to discover all the joys of a garden in the middle of central London. Foodies can sample tasty, freshly cooked BBQ food from Barbeskews Catering and botanical inspired drinks served in the Portobello Road Gin shed. Those looking to make the most of their lunch break can read or relax with friends on cosy outdoor sofas in amongst a sensory collection of plants, flowers and easy to grow herbs. There will even be a flower selfie wall to pose against! Londoners looking to unwind can drop by until 21:30 for an evening drink under the open skies of Soho Square to the soundtrack of live music from the No Limits Street Band.
For those keen to get a more hands on experience, there will be daily free workshops with B&Q experts on how to transform even the smallest space into a green, wildlife friendly sanctuary with little effort and minimal cost. These are available to join on the day and places are also bookable online via Eventbrite. BBQ cook extraordinaire and YouTuber, DJ BBQ, will be dropping in to make a special appearance on Saturday 29th April to show off his grilling and DJ-ing skills on the latest B&Q BBQs.
Whilst the Open Garden is free and open to the public, one lucky winner will win the chance to host their own private party for them and 9 or more friends. Hosted in a special VIP terrace area with live music and including free food and drink, this memorable evening is up for grabs on B&Q's social media channels.
Mike Norton, Market Director Outdoor, from B&Q explained; "Gardens in London can be small and many have to make do with a small balcony or window sill, but that doesn't mean that Londoners should miss out on the joys of outdoor space. With summer approaching, we wanted to do something really different to remind Londoners how extraordinary a garden can be, and to inspire them to get out and make the most of the spaces they do have, whatever the size."
The pop-up garden has support from PR and content agency Good Relations.
B&Q's Open Garden is free to attend and will be open to the public in Soho Square, London from Wednesday 26th until Saturday 29th April 2017. For more information visit www.diy.com/open-garden and workshop spaces pre-bookable on Eventbrite: http://bit.ly/2okxmeL.