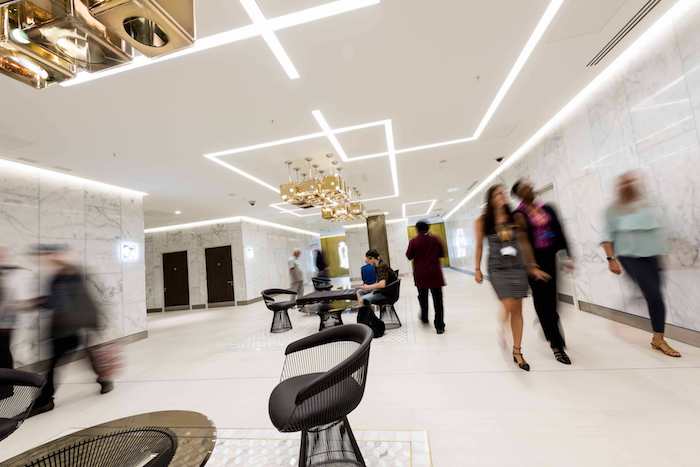 Changing Places Day on 19thJuly 2019 is a national awareness day, aiming to highlight the importance of specialised toilet facilities required by a quarter of a million severely disabled children and adults in the UK. The facilities help carers to maintain a level of dignity for service users by not having to resort to being changed on toilet floors. centre:mk, as part of its award winning guest services facilities, was the first to open a Changing Places toilet in central Milton Keynes. In celebration of their 'Open to All' strategy, centre:mk will be driving awareness of the importance of their facilities by giving complimentary gift cards to those using the 'Changing Places' area on the day.
The 'Changing Places' toilet, which is just one of two registered in Central Milton Keynes, was installed in centre:mk in 2017 as part of the shopping centre's multi-million pound investment in the new guest services lounge (pictured). The centres wider disability awareness strategy called 'Open to All', is being realised further to these facilities through a series of staff training and services such as free wheelchair hire and disabled car parking accreditation in its new multi-storey carpark behind John Lewis.
The 'Changing Places' toilet differs from that of a standard disabled toilet as it provides; an adult-sized height adjustable bench and hoist, a centrally placed toilet with room either side, a screen or curtain to allow privacy and a safe and clean environment with wide roll tear off paper to cover the bench, and a large waste bin and nonslip floor.
On 19thJuly 2019 guests using the facilities can get a £5 centre:mk giftcard from the Guest Services team when they come to collect a radar key for the changing places toilet between 9am-6pm.