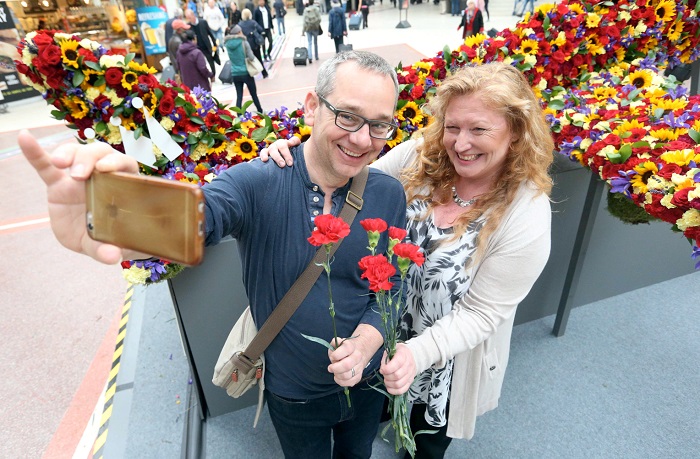 Ahead of Chelsea Flower Show, TV gardener Charlie Dimmock joined forces with low cost airline and holiday company, Monarch to cheer up commuters with a giant floral plane at London Victoria Station and Birmingham Grand Central.
The ex-Ground Force star and current presenter of BBC's Garden Rescue unveiled the plane measuring nearly 15-foot-long and 15 foot-wide and covered in 10,000 flowers native to Monarch's new flight and holiday destinations. The blooms included honeysuckle from in Stockholm, Sweden, sunflowers from Porto, Portugal, lavender from the fields of Zagreb, Croatia, and red carnations – Spain's national flower – from Valencia.
The floral work of art took 207 hours to create, with each of the 10,000 flowers being delicately attached by hand.
Following new research that found giving fresh flowers is one of the best ways to brighten someone's day, Charlie joined Monarch cabin crew to hand out hundreds of free posies to unsuspecting members of the public.
As part of Monarch's 'Year of Nice' promoting the traditional values of chivalry, courtesy and respect, cabin crew awarded the friendliest commuters with a free pair of flights every hour.
Charlie also spent the morning charming members of the public, as the survey revealed that some of the nicest gestures Brits can do to raise someone's spirits is flash them a smile (19%) or give them a compliment (18%).
Charlie comments: "Launching Monarch's beautiful floral,plane this morning was a great way to bring together two loves' of mine – flowers and holidays. And also a wonderful way to celebrate Monarchs new flight destinations, using 10000 flowers from Stockholm, Porto, Zagreb, and Valencia. The sight and scent of the floral plane really put the commuters in the holiday mood and that was before we started handing out flower bouquets to unsuspecting Londoners with free flights hidden in them."