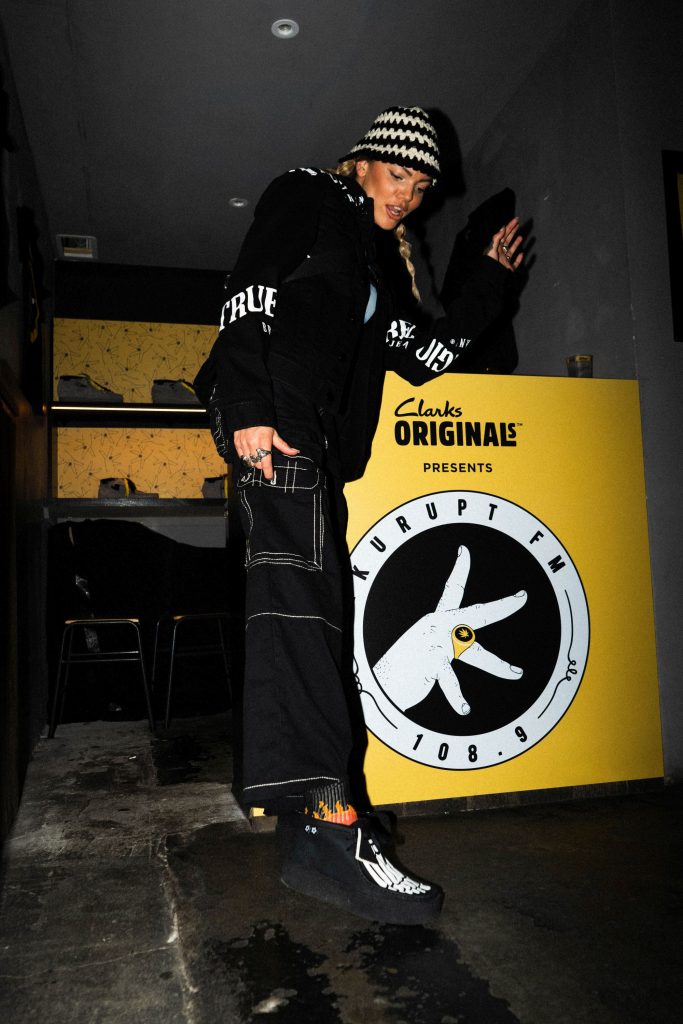 Exposure has helped Clarks Originals mark the launch of its latest collaboration – the Kurupt FM Wallabee Boot – with a brand experience that saw customers party with the eponymous West London garage-crew, Kurupt FM.
Taking place on Thursday 24th August at London's iconic venue, The Social, the experience celebrated the collaboration by featuring Kurupt FM as the headline act in an environment with Clarks' presence spotlighted across everything from reusable pint glasses to a co-merch stand offering the Kurupt FM Wallabee. In addition to overseeing the development and execution of the live experience, Exposure was also responsible for promoting the collaboration itself.
To celebrate the new boot, Kurupt FM and Clarks fans were given the chance to attend the experience by purchasing the Kurupt FM Wallabee, which has been available since 11th August, to be entered into a draw to win tickets to the event.
In honour of the collaboration, the Kurupt FM crew have additionally created a mini content series to help educate their fans on the iconic Clarks Wallabee, detailing its history and associations in typical Kurupt FM style.
Kurupt FM put a radical new spin on the cult classic Wallabee with premium grey suede embossed with an all-over print of the famous Kurupt FM 'K' hand logo, a smooth black nubuck collar, sprayed grey crepe soles to match the upper, three interchangeable laces and a custom Kurupt FM logo FOB.
The Kurupt FM collective began as a fictional pirate radio station on the hit BBC comedy series People Just Do Nothing, but has since expanded into a fully-fledged entertainment group, performing live shows, festivals (including Glastonbury), albums, podcasts; and interacting with some of the world's biggest names, including Fred Again, Post Malone and The Alchemist. In partnership with Clarks Originals, these local legends can now add footwear design to their CV.
Exposure's Executive Director, Andy Jephson, said: "With an iconic shoe, an ambitious and creative client, and the world's greatest pirate radio crew, our job was to join the dots, make it happen and, working with the Kurupt FM team, make sure that fans heard about the collaboration through multiple channels and platforms. Rounded off with an unforgettable experience at The Social, we did exactly that."