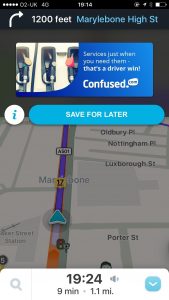 Confused.com has announced that it is the first price-comparison site to advertise on the free, sat nav application Waze, which currently has over 85million users worldwide and almost 2million Wazers in the UK– a figure that is growing every day.
Confused.com is taking over thousands of in-app UK ad units which pop up when drivers are at a complete standstill, usually at red lights. The creative showcases the day-to-day wins experienced by drivers when behind the wheel, such as their favourite song coming on the radio and beating the bank holiday rush.
The ad takeover underpins Confused.com's new marketing strategy to simplify its proposition by delivering wins to drivers and saving them money. The entire business has been realigned to put car savings at the front of the show room at a time when two thirds of shoppers on price comparison sites are there for car insurance. It has also launched a new range of motor comparison products including car finance, car buying, fuel prices, tyres and MOTs, inventing a unique platform which provides car-saving opportunities to motorists.
Confused.com CMO, Paul Troy says, "Confused.com and Waze both give back to drivers and save them time and money. We are focused on the driver and the Waze platform delivers 'driver wins' directly to them while they're out on the road, so it's a great fit. We want to create more direct and dynamic relationships with drivers – and Waze is a digital innovator which does exactly that."
UK Country Manager for Waze, Finlay Clark, adds, "Waze is the app which saves commuters an average of 5-10 minutes a day, everyday – the ultimate driver win – so it made perfect sense for us begin a partnership with Confused.com. Our fast growing advertising platform specialises in reaching drivers in a unique context, we're the only screen you can target in the car. Confused.com are making the most of this context, combining our targeting capabilities like driving conditions, time of day, weekday vs weekend, delivering messages to drivers which really cut through.
Finlay Clark explains that the Waze ads platform is unique in its offering and truly compliments brands associated with drivers:
"We've got millions of users every month using us to commute, and our location based advertising platform allows us to reach drivers in real time, providing information about locations around them and things they should know about. We hope to compliment the Confused.com campaign as we work together to bring more Driver Wins to life on Waze".