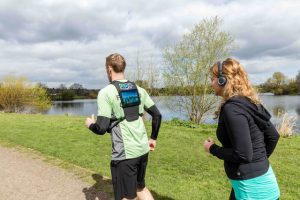 Britain's love of binge-watching shows no signs of slowing. However, the more shows watched, the less exercise is had, impacting TV lover's health. With this in mind, David Lloyd Clubs has announced the launch of PTVs,  a team of personal outdoor running coaches with digital screens strapped to their backs. People run after the coaches and watch their favourite TV shows at the same time.
Although gym-goers can prop a digital tablet on a treadmill, no 'binge while you exercise' option exists for people that like to run outdoors until now.
To take advantage of the offering, people first book a free one-to-one session with a PTV running coach (or they can book as a couple) and choose the TV show they want to watch while they run – whether it's on Netflix, BBC iPlayer, Now TV or Amazon Prime.
In advance of the session the PTV will map out an appropriate off-road running route adjacent to David Lloyd Clubs that is tailored to the client's running pace and the length of one episode of the chosen show. Clients can expect to cover between 3 – 5K if it's The Good Place, or 8 – 10K if Jessica Jones or Stranger Things takes their fancy.
Each PTV will sport a custom-made running vest with a digital screen on the back and, upon arrival, the client will be supplied with a pair of wireless headphones. The binge-run will then commence and the client will need to keep up with their running coach if they want to watch their TV show uninterrupted.
The PTV service is designed to raise awareness of the importance of staying active and moving regularly – even during a binge-watching marathon – with recent scientific research revealing that not doing this can have a negative impact on a person's short and long-term health1.
The introduction of the PTV service also follows new research from David Lloyd Clubs2, which reveals that a quarter (24%) of Britons currently do not do any exercise each week because of their hectic day-to-day schedules.
The study, however, also confirmed the widespread nature of the binge-watching trend across the nation, with one in five (18%) finding time to watch over 31 hours of TV a week and one in eight (12%) admitting to have binge-watched their favourite show for more than eight hours straight in the past year.
Jorge Fernandes, GM at David Lloyd Chigwell, said: "We are always looking at ways we can introduce exciting new types of classes and services that can really benefit our members. We appreciate that the hectic nature of modern life means people often struggle to find time to exercise each week. Our new PTV classes aim to counter this trend, giving time-poor parents and young professionals the perfect means to stay up to date with their favourite shows while ensuring they stay active and healthy at the same time."
PTV sessions are to initially be trialled at David Lloyd Chigwell over the weekend of Saturday 21st and Sunday 22nd April 2018. Depending on the success of the trial, David Lloyd Clubs will look into rolling out the service across the UK over the spring and summer months.