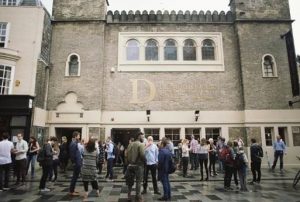 On 29th September, Marketing and Communications partner Brilliant Noise will once again be holding its  Dots conference at Brighton Digital Festival. Bringing together a mixture of creative and digital industries, the conference will have a theme of Embracing Change.
The one-day marketing conference at Brighton Dome's Concert Hall will feature a line up of speakers from the marketing industry and beyond, including Muriel Lotto, VP, global marketing strategy and brand management at Western Union and Bruce Daisley, EMEA VP at Twitter. Bruce is also a workplace culture fanatic: his podcast – Eat Sleep Work Repeat – is focussed on the question "can we be happier at work?"
The conference will focus on how the marketing industry is ever-changing, with each speaker sharing stories of embracing change and thriving in turbulent times. With so much transformation happening, the experienced speakers will offer unique insight into how to grow with this, both personally and in business.
Dots 2017 will also feature spokespeople from high profile organisations such as Amanda Azeez, Associate Head of Child Safety Online, NSPCC and Gemma Cairney – a multi-award winning broadcaster (BBC Radio 1), writer, artist, and producer and owner of Boom Shakalaka Productions, which brings together creatives to produce multidisciplinary projects that excite and inspire.
Antony Mayfield, ‎CEO & Founding Partner of Brilliant Noise, said: "It's incredible and exciting to be putting on the fourth year of Dots. Every year has been a unique thrill and I can't wait to see this year's speakers take to the stage. Brilliant Noise was founded around the time that the Brighton Digital Festival started, and we are so proud to have grown with it and are able to put on a landmark event like Dots."