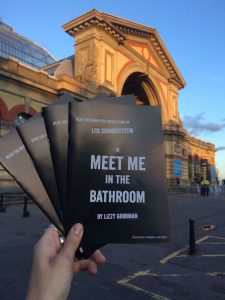 Handing Alexandra Palace audience sample chapters about the band they were queuing to see resulted in trackable sales boost within hours
Book publisher Faber & Faber saw an almost instant sales boost on Amazon from a chapter sampling campaign at a recent concert at London's Alexandra Palace, suggesting members of the audience were so enthused by what they read that they ordered a copy of the book via their mobiles on the night.
'Meet me in the Bathroom: Rebirth of Rock and Roll in New York City 2001-2011', by Lizzy Goodman, is an authoritative study of the renaissance of the New York music scene in the early years of this century, and features profiles of a number of major bands of the period.
One of the bands covered in the book – Interpol – performed recently at Alexandra Palace, and specialist face-to-face staffing agency StreetPR provided brand ambassadors to hand out sample chapters focusing on the band to the queue on the night.
Hannah Marshall, Faber social marketing manager at Faber & Faber, says: "At the Interpol concert, there were 10,000 people in the audience and we handed out 3,000 samples of the chapter from the book, which was specifically about Interpol. It worked particularly well because people were queuing to get through security for quite a while and as I walked along the line a lot of them seemed to be reading our sampler chapter. That campaign was really successful – people obviously read the chapter then ordered the book on their mobiles while they were at the concert, because we saw an immediate spike in sales on Amazon. The campaign was even mentioned in Variety's review of the gig!"
Dorian Payne, head of operations at StreetPR, said: "Obviously, we know that face-to-face engagement can drive awareness and purchase – but it's great to have almost immediate proof of the impact from Amazon! We made sure our trained brand ambassadors were a fit with the audience for the concerts, and that, along with the specially selected sample chapters, obviously struck a chord with them."
StreetPR has worked with Faber & Faber on a number of book sampling campaigns since 2014.