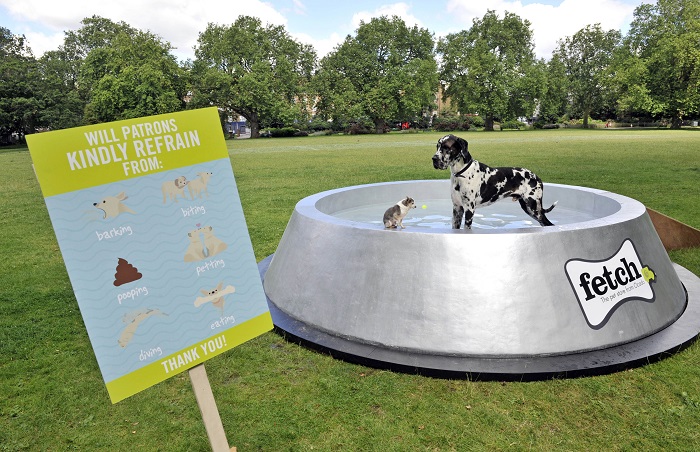 Fetch, Ocado's online pet store, has built what could be the world's largest dog bowl, in a bid to educate the country about keeping dogs hydrated in the summer.
The dog bowl, which stretches 4.5m in diameter, stands at 1m tall and can hold up to 2000 litres of water,
is being unveiled at Kennington Park in South London with plans to tour it across the UK.
The giant bowl hopes to raise awareness amongst dog owners on keeping dogs hydrated and safe during the summer months.
Over 80% of a dog's weight comes from water but dogs lose water much more quickly than humans because they don't sweat and cool themselves primarily by panting.
A dog can become dangerously ill if it loses even 10% of this water weight.
Fetch's in-house vet, Lauren Vrsalovich, has provided tips for spotting and tackling dehydration in dogs.
signs to look out for include:
Sunken eyes
Dry gums
Lethargy
Loss of skin elasticity
Weakness and collapsing
How to prevent dehydration
Ensure your dog has plenty of access to fresh, clean water.
Take bottles of water on walks or whilst traveling.
Avoid exercising your dog in hot weather. Instead walk them early in the morning or later in the evening.
Never leave your dog in a car – when it's 22 degrees centigrade outside, it can reach 47 degrees inside the car within one hour.
Lauren Vrsalovich, commented, "It can be difficult to decide how much water you should give your dog. Generally speaking the average dog should drink 20-70 millilitres of water for every kilogram they weigh. For example a 10kg dog should drink between 200 & 700ml in a 24 hour period. But this will vary between individuals. The environmental temperature and water lost through activity and/or panting etc will have a major influence on this number.
"It's a good idea to get used to what is normal for your pet so you can keep an eye out for any dramatic increases or decreases in fluid intake."