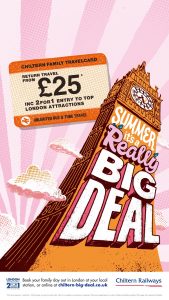 Full service advertising agency, The Gate London, part of MSQ Partners has launched its new summer campaign for Chiltern Railways, featuring a radio advert recorded at the ArcelorMittal Orbit, home to the world's biggest slide.
The advert forms part of a wider campaign to promote Chiltern's Family Travelcard, and features a 30-second clip of a voice-over artist hurtling at high speed down the 178 metre slide. The clip is also accompanied by a video, which will be shared across social channels including Facebook, Twitter and Instagram for the duration of the campaign.
The agency's remit involved the production of all creative, as well as the buying and media planning for both digital and print. Print, outdoor and digital media have also been supported with illustrations from renowned typographic artist, Andy Smith.
Beri Cheetham, executive creative director at The Gate London, said: "It's rare to hear something on radio that stops you in your tracks. We knew we wanted to capture as much of the drama and excitement that London has to offer and thought our best chance was to record something for real.  Recording at breakneck speeds for over 178m was a real challenge, but the final spot is something we're really proud of."
Sue Gee, head of sales & marketing at Chiltern Railways said: "We were keen to make our radio spots stand out from the crowd this summer and when The Gate suggested recording live on location on the biggest slide in the world, we knew we had to do it. What better way to bring the adrenaline-rush of London to life than recording a real-life London adrenaline-rush? We hope everyone enjoys listening to it as much as we enjoyed making it."