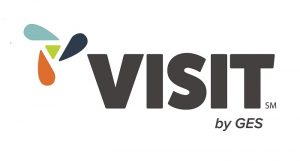 GES, the global, full-service partner to the live event industry, has launched Visit by GES as the new global brand identity for N200, its event registration and data intelligence platform.
"The introduction of Visit is the beginning of a new and exciting era for GES," said Jason Popp, GES executive vice president, international. "The new name and identity reflect the crucial role we play in helping event organisers attract, convert and measure engagement of event attendees. The design brings Visit more closely into the GES family and brings clarity and simplicity to the global brand.
"Visit is already in use by over 1,100 events across the world, and this exciting brand refresh will help us take our compelling story to a wider audience," Popp added.
The announcement of the new identity follows GES' recent acquisition of Poken, the visitor engagement technology which perfectly complements Visit's registration, data and lead capture capabilities.
Jeff Lee, managing director of GES' engagement technology group said: "Our new identity builds on our proud 25-year history delivering game-changing, measurable events. Combined with Poken, our powerful visitor-driven engagement platform, GES' technology offer is well placed to meet the increasingly sophisticated demands of our customers and deliver truly intelligent event solutions."