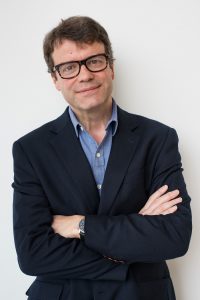 GES has announced the appointment of Mike Phillipson as managing director of its Blitz|GES event production business with immediate effect. Phillipson will be part of the GES EMEA executive team, reporting to Jason Popp, EVP of international at GES.
Phillipson brings both senior business leadership and creative industry experience. He is the former CEO of the creative communications agency group, Cogent Elliott and started his career working at global creative agencies Saatchi and Saatchi, Lowe and then JWT, before moving client-side to head up the marketing for  First Direct. The now  black and white branding and  tone of voice developed during Phillipson's time at First Direct remains to this day. In addition, Phillipson has worked with a raft of leading brands since, including P&G, Nestle, Greggs, Barclays and Land Rover. He also chaired the Marketing Society (North) for three years.
With the addition of Phillipson, industry veteran Paul Hutton, who has been with the business since 1989 and previously served as managing director of Blitz|GES, is taking on a new role. Hutton will now focus on agency partner relationships which are key to the business and its customers.
Popp commented, "I am delighted that Mike has joined the team. His background blends both creative and commercial capabilities and is a great fit for Blitz|GES, as we embark on the next phase of growth. Our clients are embracing live events as a key marketing channel and Mike's brand expertise will prove invaluable to both existing and new customers."
Phillipson said, "It's an exciting time to be joining Blitz|GES. The business has a proud 25 year history, with a reputation for quality and technical excellence – no small feat in such a demanding industry. We have a strong story to tell and a great client list – I relish the opportunity to work with the team to deliver unforgettable live events for our customers and drive even further growth."