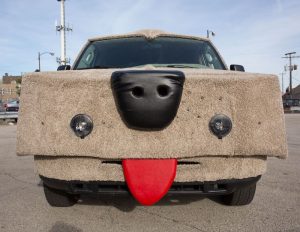 Graduate Hotels has kicked off their autumn 2017 tailgate tour during which they will visit university towns for home football games in a recreation model of the Mutt Cutts van from the 1994 movie Dumb and Dumber. Created in partnership with leading experiential agency OutCold, the mobile tailgate commenced in Ann Arbor, MI and includes stops at Lincoln, NE; Madison, WI; Oxford, MS and Athens, GA.
At each pit-stop, Graduate Hotels will host a pop-up tailgate operated out of the retrofitted Mutt Cutts van, which has been outfitted with fully stocked Yeti coolers, a roll-out grill, music and corn hole boards. Food and beverages will be available for purchase.
"Graduate's Mutt Cutts tour is our way of celebrating football season while simultaneously paying homage to pop culture and the arts in a very fun and playful way," says Ben Weprin, CEO of Graduate Hotels. "I spent my entire life savings turning my van into a dog."
To bring Harry and Lloyd's Mutt Cutts van to life, Graduate partnered with Chicago-based experiential marketing group, OutCold. Modeled after the iconic dog grooming van, the exterior is wrapped in a shag carpet with a "Graduate Hotels" dog tag illuminated in neon. The interior of the van seamlessly blends nods to the popular 90's comedy with Graduate's design utilisng repurposed yardsticks as a wallcovering, a custom Petey print (a nod to Blind Billy's pet and outfitted with vintage plaid seats) to dress the celling and vintage plaid seats.
"Working with the team at Graduate Hotels was an absolute blast! Anytime we get the opportunity to collaborate with a client who not only wants us to use our creativity but also let us build something we all love, it is a huge win for us. The Mutt Cutts van is an iconic vehicle and the perfect expression of Graduate Hotels' unique, fun-loving personality. Our mobile tailgate has the power to bring their brand to life, extending it beyond the actual hotel properties and out into the world," said Fritz Heffinger, CEO and Co-founder, OutCold.