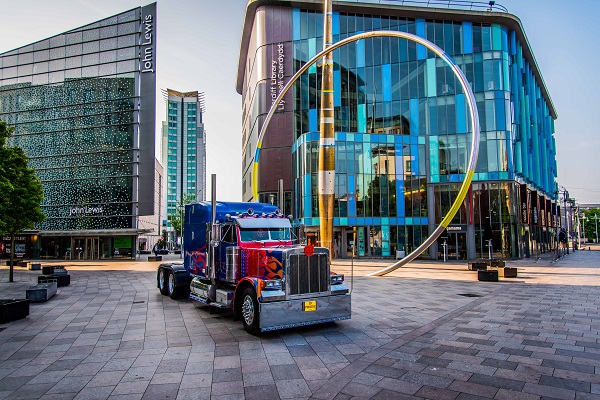 This summer, kids young and old will get the chance to get closer than ever to Optimus Prime, Bumblebee, Grimlock, Sideswipe and the Autobots as the Transformers Tour hits the UK.
The interactive experience will immerse fans in the world of the iconic robots. Visitors will be able to play with the latest toys, including new remote control models, put the latest Transformers apps and video games through their paces, and watch episodes from the hit TV series Transformers: Robots in Disguise.
Optimus Prime and Bumblebee will be there to welcome fans on board the specially designed trailer, which will feature an interactive wall where characters can be 'powered up'. There will also be the ultimate photo opportunity with the chance to pose inside a replica of the Optimus Prime truck cab.
"With lifelong Transformers fans in the agency, it was a real delight to get stuck in to creating a touring brand experience for this amazing and evergreen entertainment franchise," said Nick Swift, account director at real world marketing agency Sense, which is running the campaign. "Transformers is about imaginative play – both in the physical and digital spaces – as well as about fantastically cool robots! We are looking forward to getting on the road and providing an unforgettable immersive experience that any Transformers fan can enjoy."
Revving up first at Sunderland Airshow from 22-24 July, the Transformers Tour landed at Carfest North in Cheshire (29-31 July) before then hitting Cardiff city centre (5-7 August), Bristol Balloon Fiesta (11-14 August), The Bullring in Birmingham (18-21 August) and The Big Feastival in Oxfordshire (26-28 August). Optimus Prime and the crew will also visit Kidtropolis at London ExCel from 25-27 October.