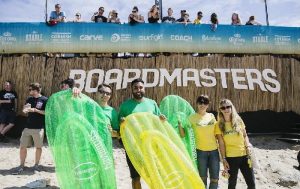 For the second year running, Havaianas has appointed Ambient's staffing team to promote the brand at Boardmasters Festival, taking place this weekend.
Teams of brand ambassadors in full Havaianas attire and equipped with branded lilos, will be roaming the festival area on Fistral Beach with the aim of driving traffic to the local store. Customers who purchase a pair of Havaianas during the weekend, will receive a complimentary lilo and exclusive tote bag.
The brand ambassadors will also be encouraging festival goers to have their photo taken and shared in front of the famous Havaianas shower, which is an annual feature on the beach.
"We are very happy to be working with Havaianas again and to be back at Boardmasters for the second year running to manage this fun campaign for the brand" – Polly Courtney, Account Director Ambient.