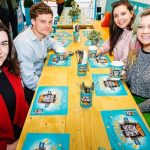 To celebrate 50 years of its iconic advertising slogan 'Beanz Meanz Heinz', Heinz has launched a Beanz Meanz Heinz pop up café in Dublin city centre. The 'Beanz Meanz Heinz' pop up café offers complimentary meals for fans.
The free 'Beanz Meanz Heinz' Dublin café opened from April 24th at 33 Wicklow Street and remained in situ for a week.  The 'Beanz Meanz Heinz' Cork café  opened on Tuesday May 2nd until Sunday May 7th at Ali's Kitchen, Rory Gallagher Place.
The pop-up serves breakfast, lunch and dinner serving gourmet Beanz dishes including Beef chilli con carne with mixed beans and Huevos rancheros. Dinners are encouraged to 'Pay for Beanz by social Meanz' and use the hashtag #HeinzBeanz50 to share their experience on social media.
Emily O'Kane marketing manager Kraft Heinz Ireland said: ''We take huge pride in our Beanz, from the laser technology that scrutinises every single bean to the top secret spice recipe we use for the sauce! The popularity of the 'Beanz Meanz Heinz' slogan is testament to that, being voted one of the greatest taglines of all time. It's an incredible achievement to continue to strike a chord with the same line 50 years after it was first penned… 99% of us can complete the slogan without being prompted, including those who weren't even born when it first appeared on our screens in 1967. We can't wait to celebrate this legacy together with our fans at our limited edition cafés. We hope that this sentiment and fun will continue for many years to come."