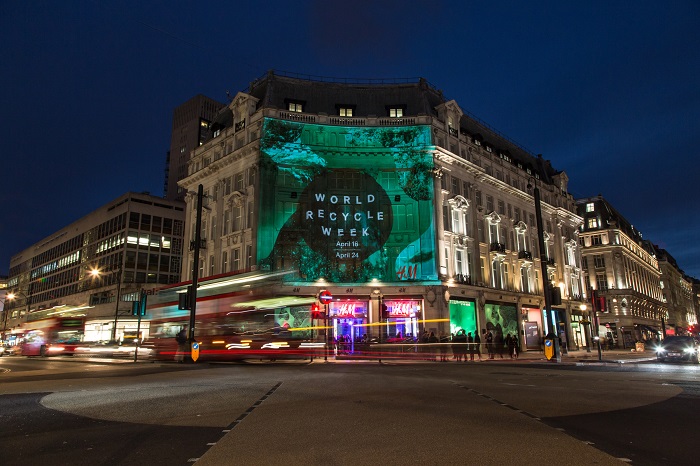 H&M have commissioned sfd, Pavegen and Projection Artworks to kick-start World Recycle Week that runs from the 18th to the 24th April and emphasises the importance of implementing "clean thinking" in everyday routines. Joining to celebrate the launch is rapper M.I.A, who will be releasing her single, "Rewear It", at the event.
Projection Artworks, the UK's leading 3D projection and interactive experiences studio, helped ensure the scheme was launched in unmissable style via a giant, dramatic projection mapped animation that engulfed the vast frontage of H&M's Oxford Circus store. Projection Artworks worked with the brand in designing the content, which begins with giant green waves washing up the façade. This was inspired by the initiative's green environmental imagery.
Pavegen have two installations within H&M. The first is a 24-tile installation, at the entrance of the store, that powers lighting strips that are illuminated through shoppers' footsteps and raises awareness to H&M's long-running campaign. The second installation is a 27-tile walkway on the 4th floor, powering an interactive wall that generates a visual display with each step on the tile.
The 'Garment Collecting Initiative' allow shoppers to recycle their unwanted clothing. The clothes are either sold in second-hand stores to be re-worn or manufactured as new garments and items. sfd developed a pin wall for the 4th floor so for every batch of recycled clothes a taken is given, this can be inserted into the light wall to transform the colours, turning the display green.
sfd manufactured, delivered and installed the window scheme for this global roll out to H&Ms flagship stores; it was imperative that all the materials used are recyclable.