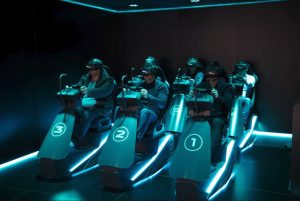 Imagination powered the launch of the new all-electric Jaguar I-PACE with a series of  interactive activations at this year's Geneva Auto Show.
The experiences were designed to showcase Jaguar's first all-electric production vehicle and allow customers to discover its unique design and advanced technology. The activations also supported the Auto Show experience itself, giving visitors additional incentive to interact with, and spend time at the stand.
Imagination used the scale of the Jaguar Land Rover stand – its largest to date globally – to bring to life the key features of the car: design, battery, charging and range, and to give a sense of the thrilling driving experience of this 'Pure Electric' vehicle.
The creative comprised of three interactive exhibits:
My Electric Life – an asset made to dispel the myths of owning an electric vehicle. The display featured a stunning 3D city and animated screens where visitors were able to generate a 'hyperlapse' video souvenir of their own personalised electric journey. Allowing customers to choose from any starting and end point within five major European cities, reinforcing that the all-new Jaguar I-PACE, due to its range capability and the existing charging infrastructure available, is a genuinely competitive choice for the current automotive market.
Battery Electric Vehicle (BEV) – a technical exhibit that delved into the engineering of how the vehicle works. The information was set within 37 layers of acrylic with interactive touch screens which visitors could slide and activate to view the rich content. The work brought art gallery and science museum quality to a highly technical story.
Inside I-PACE – a monocoque structure exposing the technology within the car was positioned on an LED screen floor with visual effects to make the car appear as if it was moving. Surrounding information pods tell key design and performance stories.
The work was a continuation of Imagination's Innovation and Technology Programme for Jaguar Land Rover which launched at the Frankfurt International Motor Show in 2015.
Ross Wheeler, head of automotive, Imagination, comments: "The I-PACE is a stunning and innovative car and deserves a cutting-edge stage setting for its launch. It was an honour to be able to create the I-PACE activations to add to the visitor experience."
Ben Callis, automotive creative director, Imagination, adds: "It was a pleasure to work with Jaguar Land Rover on the I-PACE launch and it was a real collaborative effort. We know from our previous work that the best way to tell what is quite a technologically complicated story is to design an interactive creative solution to make the story a shared experience which is easy to understand."