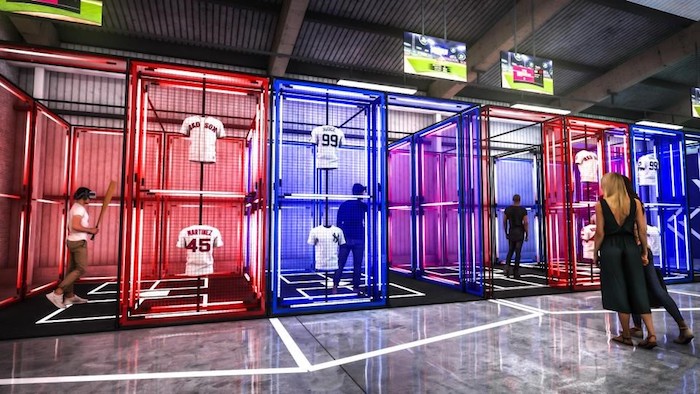 Major League Baseball has announced the launch of London Yards, a three day festival at Truman Brewery to celebrate all things baseball.
Running from Friday June 28th to Sunday June 30th, London Yards is aligned with the Mitel & MLB present London Series between the Boston Red Sox and the New York Yankees which will take place at London Stadium on June 29-30.
MLB will partner with global experience agency Imagination to bring the festival to life. This collaboration builds on the success of the 2017 MLB Battlegrounds campaign with a continued focus to raise the profile of baseball in Europe.
The free to attend three-day festival is inspired by America's most historic sport and aimed at a new generation of fans, allowing them to experience the best of baseball; they can watch the Mitel & MLB present London Series games live, pick up a bat and play interactive games, eat, drink and shop all in the heart of Brick Lane, East London. DJs will be playing music inspired by Boston and New York and MLB will have exclusive merchandise on sale from partners including New Era, Champion and '47.
In addition to showcasing MLB's Home Run Derby VR video game experience, London Yards will also debut a newly designed immersive baseball experience – an illuminated batting cage where players aim to hit home runs via a tracking system from MLB's partner Hittrax, which visualises the results in real-time. London Yards will also be the perfect setting to watch the game and soak up the ballpark atmosphere, with multiple London food vendors serving up dishes inspired by Boston and New York.
T-shirt cannons, hawkers and hosts will be on hand to recreate the feeling of the ballpark while the games are on-screen.
Tickets are free, visitors can pre-register on the website on 23rd May, and general admission is also available at the door.
Charlie Hill, vice president of international strategic development at MLB said: "The UK is passionate about the thrill of sports and competition, and the popularity of US sports within the UK is at an all time high. We want to give audiences and crowds the experience they deserve if they were unable to get a ticket to see the action on-field. We're thrilled to show a London audience why baseball is a sport they'll love and Imagination are the perfect partner to do this with."
Jiri Bures, creative director at Imagination said: "Entering a new market, MLB are conscious to not take audiences for granted. In the age of Netflix and instant on-demand content, eyeballs need to be earned by offering genuinely engaging experiences. Our London Yards concept for MLB takes the incredibly rich cultural aspects of baseball and turns it into the kind of new, exciting real-life experience that will truly grow people's passion for such an amazing sport."