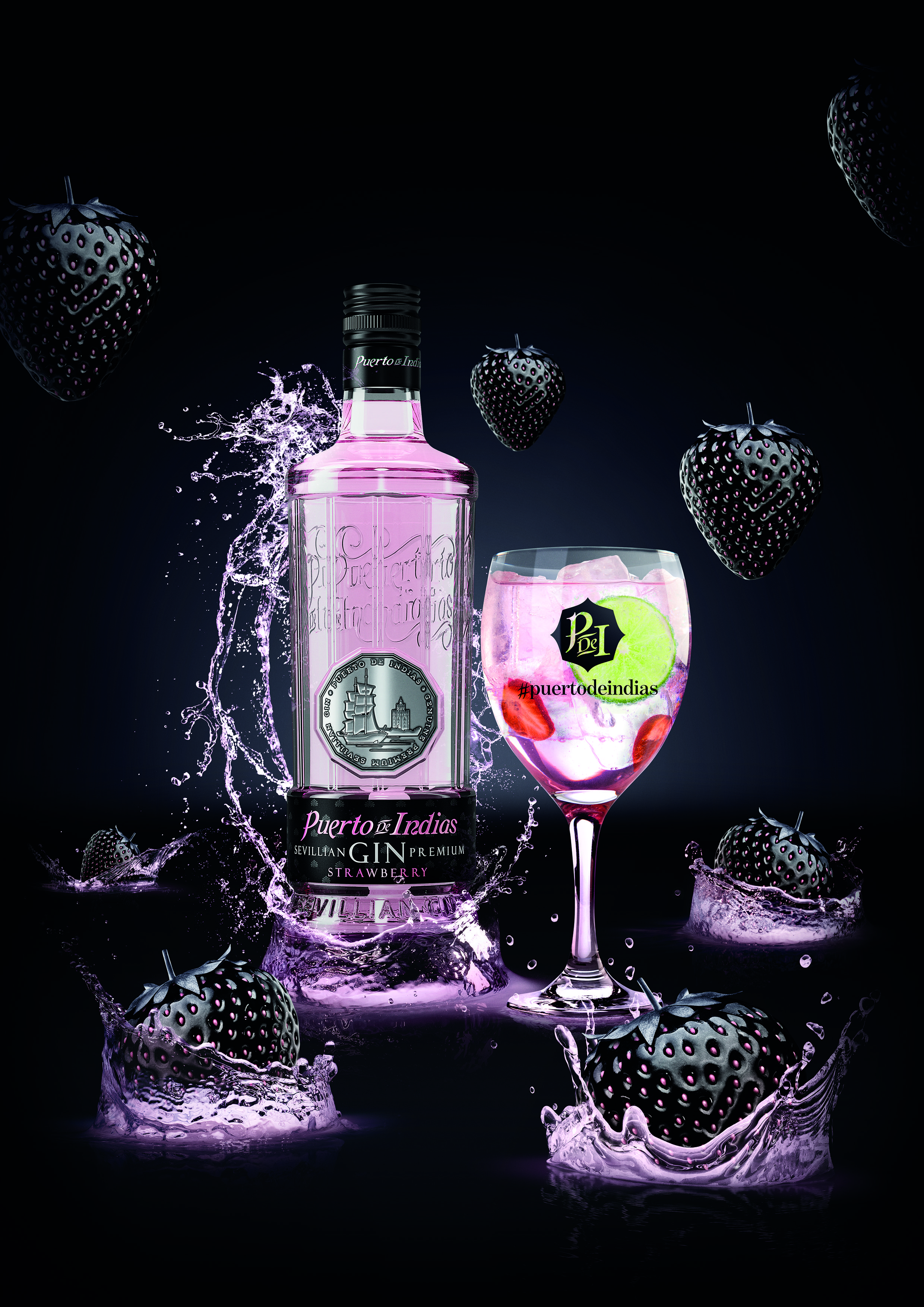 Initials has launched  premium gin brand Puerto de Indias in the UK.
The launch campaign, 'It's not pink, it's Puerto' announces the arrival of the original strawberry gin to the UK. First created and distilled in Seville in 2013 and quickly becoming a Top 10 Gin globally in only 4 years, Puerto de Indias will set itself apart from the conventional 'pink wallpaper' semiotics of the category and invite consumers to 'unthink pink'. Amplifying its wild strawberry flavour profile, the disruptive creative reveals the dark, sophisticated and unconventional world of the mysterious 'black strawberry' to drive nationwide awareness and mass trial across the on and off trade.
Targeting a 25-45 year old unisex audience, the campaign kicked off in early June with influencer activity and a social tease campaign to #followtheblackstrawberry. This consisted of influencers posting a series of cryptic clues from 'The Little Black Book of Unconventionality', creating intrigue amongst followers, and giving them the chance to join them at the launch party.
The intrigue of the online activity was amplified by large-scale projections of the black strawberry icon, beamed onto sites across London this week.
Teaser campaign competition winners then joined influencers and industry guests for a launch party last Thursday, mysteriously described as an 'Evening of Unconventionality' . Taking place at White Space, Covent Garden, the immersive brand experience took attendees through a series of theatrically imagined rooms inspired to bring to life the pioneering story of the brand.
Guided through the experience by an array of characters, guests hand-picked strawberries from a strawberry wilderness, tasted visually striking cocktails matched to their unconventional side and contributed to a live typographic art installation.
The guest experience culminated in a dramatic space adorned with the iconic black strawberries, where they were entertained by a contemporary twist on Flamenco against an eclectic DJ set with Spanish beats, whilst tasting the deliciously daring tapas inspired by the black and pink colour palette.
As well as the UK launch activity Initials created a global toolkit, enabling roll out of the campaign across new and existing territories. The digital media and social campaign will run through to late July, establishing a richer brand world and narrative.
Puerto de Indias is distributed nationwide in the UK by Indiebrands.  There are high expectations that this launch campaign will reinforce the already significant presence and rate of sale of the brand across the various channels of trade, for both "at home" as well as "out-of-home" consumption.
Bernandino Rodriguez Quirós, CEO at Puerto de Indias, said:"Launching in a new market is always exciting, now feels like the perfect time to introduce our much-loved products to UK consumers. By utilising multiple mechanics in order to encourage consumers to "rethink pink", we're aiming to both establish awareness of our products and shift the pink gin category overall into a more premium space."
Rachel Jackson, senior strategist at Initials, adds:"The exponential momentum of the gin revival continues to respond to consumers appetites for new, premium products, but at the same time 'pink gin' marketing is calling out for an edgier, unisex refresh, moving away from colour novelty alone and battling the common misconception that pink gin always has on overly sweet flavour. Puerto de Indias strawberry gin is the right product to challenge these assumptions, with rule-breaking being at the heart of the brand from its inception, so it was crucial that our campaign and message matched that ambition to do things a little differently in the world of pink gin."