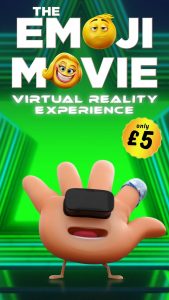 A pilot scheme is testing whether virtual reality leisure experiences could soon become commonplace at intu's 14 shopping centres across the UK.
The owner of some of the country's most popular shopping and leisure destinations has launched its first paid-for virtual reality experience at three shopping centres over August where customers can interact with characters and worlds from The Emoji Movie.
intu will be tracking data to measure the success of the pilot activity at intu Merry Hill, intu Lakeside and intu Braehead before deciding whether to roll out more experiences to its 35 million customers nationwide. The pilot will measure shoppers' propensity to pay for VR leisure experiences and the popularity of movie-related VR content.
intu ran its first complimentary virtual reality leisure pilot at intu Victoria Centre in Nottingham over December where customers were invited to step into a virtual winter wonderland and decorate a Christmas tree. Augmented reality was added to intu's in-centre app over Easter to bring to life a number of Nick Jr. characters for young families visiting its centres over the school holidays.
Karen Harris, managing director of intu's digital innovation team said: "We are running a number of trials to look at the benefits of virtual reality and augmented reality in a modern shopping centre environment.
"We think there is enormous potential for these types of leisure experiences to drive up footfall, dwell time and likelihood of revisiting a shopping destination. Data from this trial will be used to understand how we can continue to take this technology forward."
The Emoji Movie experience involves VR content exclusive to the UK featuring characters and worlds from the film and specially recorded lines from the its lead actors including James Corden.
Players will be charged £5 and each experience will be generated by a unique QR code.