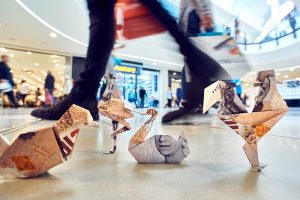 Hundreds of origami birds worth thousands of pounds have been folded and set free by intu across its 14 shopping centres around the country following new research revealing that unexpectedly finding money is the nation's most joyful surprise.
A team of experts spent over 130 hours folding hundreds of origami birds worth £10 each, which are being hidden to surprise and delight shoppers nationwide by intu, owner of some of the UK's largest and most popular shopping centres.
The Spring release of the origami birds is part of intu's pledge to make customers smile and follows research that it's the simple surprises that bring the most happiness. Finding money was voted the nation's happiest surprise, followed by hearing your favourite song on the radio, getting a refund you thought was a bill, hearing from an old friend unexpectedly and getting a compliment from a stranger.
The research also revealed that over half of people (55 per cent) get more happiness from something unexpected rather than something planned. Over a third (35 per cent) of those surveyed said shopping makes them happier and nearly two in five (38 per cent) go shopping to cheer themselves up.
Women get more happiness from shopping than men with 42 per cent saying it makes them happier compared to 30 per cent of men. Women are also likely to browse for longer, staying in shopping centres for an average of 132 minutes (2hrs 12mins) versus just 84 minutes (1hr 24mins) for men.
Roger Binks, customer experience director for intu, comments: "We hope our origami birds will put a smile on the faces of the customers lucky enough to find one within our shopping centres. We're passionate about creating experiences that surprise and delight our 35 million customers and whatever type of shopper you are; we'll have something for you. By focusing on key moments both large and small we aim to ensure each and every customer leaves our centres happier than when they arrived."
According to the survey, our favourite surprises are:
1. Finding money we did not know we had
2. Hearing your favourite song on the radio
3. Getting a refund that you thought was a bill
4. Hearing from an old friend unexpectedly
5. Getting a compliment from a stranger
6. Realising it's a weekend and not a work day
7. Being made a cup of tea or coffee
8. When your favourite film comes on TV
9. Winning a scratch card
10. Picking up the last product on a shelf
intu analysed the shopping habits of shoppers nationwide to come up with the seven types of shopper that are being represented by origami birds including a Hawk, the bargain hunter shopper who loves a good offer; Owl, the wise shopper who plans ahead; Chicken, the last-minute shopper; Duck, the shopper who makes a day of it with the family; Flamingo, the shopper who loves going shopping and looking good for the occasion; Swan, the window shopper who loves to browse around the shops; and Peacock, the over excited shopper who loves to shop for a big event or any special occasion.
The origami birds are being hidden throughout intu shopping centres across the UK including intu Trafford Centre, intu Lakeside and intu Metrocentre from 12-14 May. For more information and clues on where to find them search #intuBirds on Twitter.