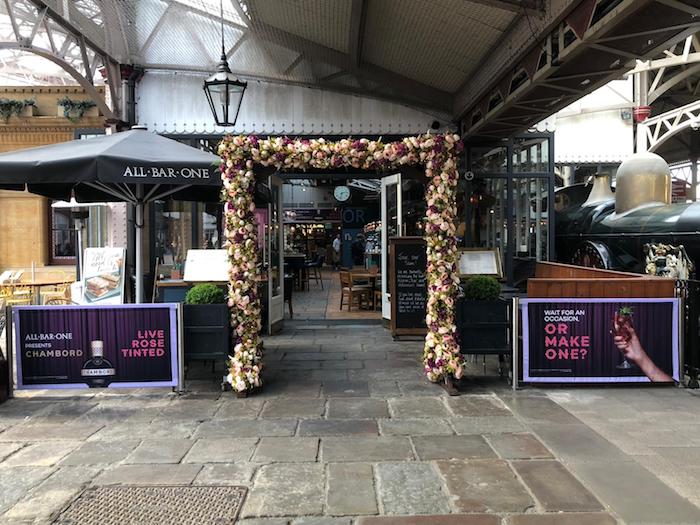 To raise awareness of Chambord's 'Live Rose Tinted' campaign and drive sales of the French black raspberry liqueur, Jackanory have created a full exterior and interior takeover of All Bar One in Windsor.
Full branding and decorative touches inside and out will encourage drinkers to choose fun over the norm and to 'live rose tinted'. The Chambord takeover includes a large flower arch entrance, a bespoke ceiling installation, striking neons and a photo booth area. An additional scratch-to-win promotion every Thursday gives drinkers a chance to win Chambord compact mirrors, a free Chambord Spritz at the bar or one of five Selfridges vouchers.
Laura Watts, brand manager of Chambord said"We believe Chambord has the power to transform an ordinary drink or situation into something special and fun…any day of the week. The All Bar One takeover does just that. With decorative touches both inside and out, drinkers are encouraged and empowered to make the most of any given moment, to choose Chambord and live rose tinted."
Jo Curtis, co-founder of Jackanory said "We believe that a drinking experience shouldn't just be about taste. It should be so much more than that. We want drinkers to enjoy a multi-sensory, immersive experience that will surprise and delight on all levels. We're thrilled to be working with Chambord to create rose-tinted experiences for drinkers at All Bar One."
The All Bar One takeover will be live from April 17th for 6 months.