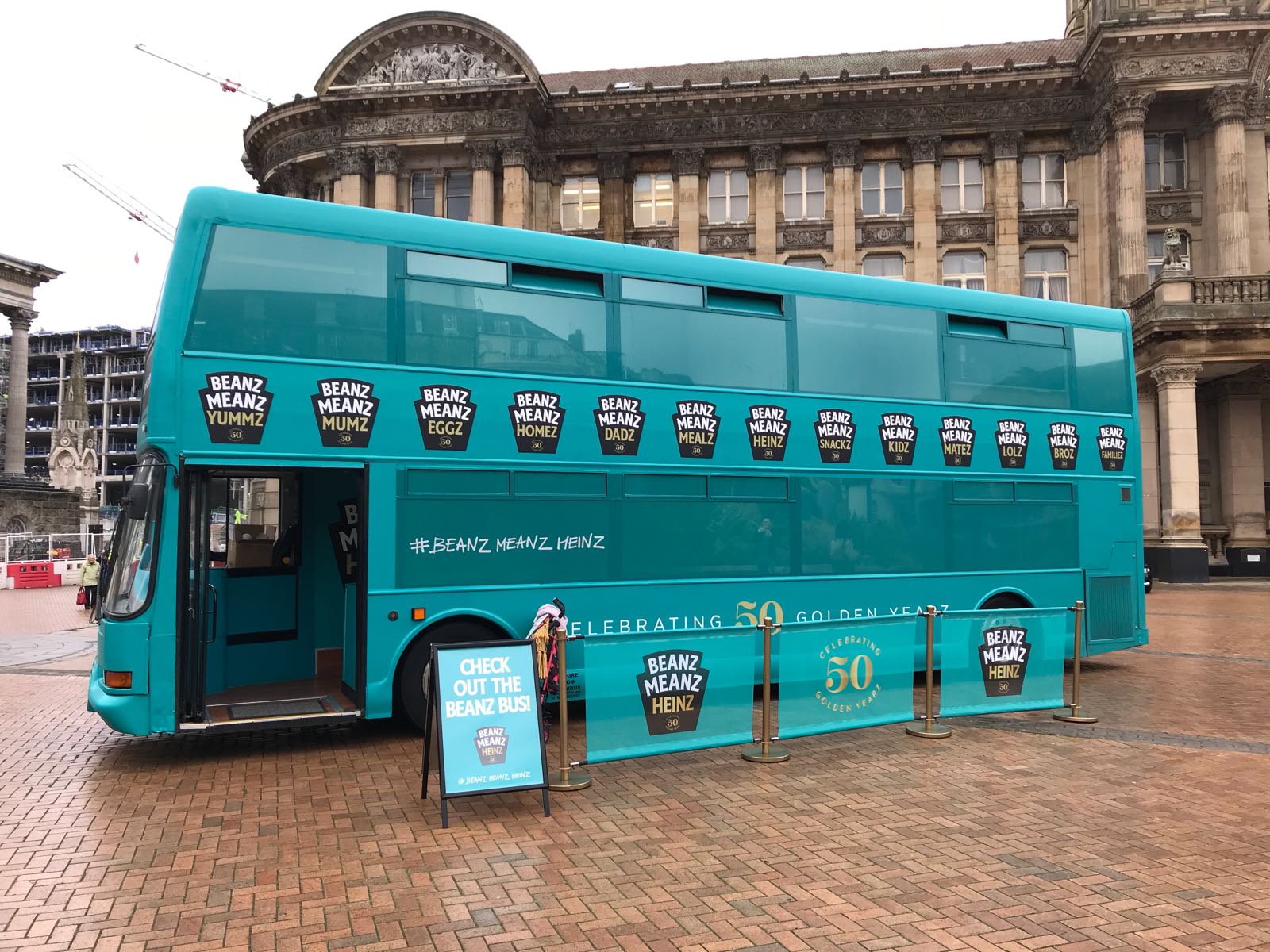 To celebrate 50 years of the iconic 'Beanz Meanz Heinz' slogan, Kraft Heinz  launched its anniversary campaign, which included 50 special, limited edition labels on 15 million cans of Beanz, a fully branded #BeanzMeanzHeinz double decker bus and a microsite offering the public the chance to personalise their Beanz can labels.
The bus, executed by Multiply, travelled to nine cities across the UK including London, Southampton, Cardiff, Liverpool, Manchester, Birmingham, Sheffield, Leeds and Newcastle. The public were invited on board to join in the anniversary celebrations with a sit down Heinz Beanz dining experience on the upper deck, with a choice of toppings including bacon, chorizo, ham hock or feta, spinach and tomatoes – with an added option of cheddar cheese on all four.
On the lower deck, visitors could engage with the Heinz Beanz recipe card wall, taking home a selection of bespoke Beanz recipes thanks to the Food Network and Heinz Beanz – a seven-month media partnership developed by OMD Create, OMD UK's in house creative solutions team – in addition to ordering their own personalised limited edition Beanz can.
An influencer campaign was launched by OMD UK, to support the anniversary activations in order to reach a new pre-family audience, with key influencers sharing pictures of their personalised Heinz Beanz cans. Selected regional influencers will also be invited on board the #BeanzMeanzHeinz bus to share their experience online.
Kraft Heinz and Capital Radio teamed up for a national radio partnership, to promote the personalised cans and the bus tour. Everyday throughout the partnership Capital Radio and Heinz Beanz gave away prizes worth £2000 including an ultimate brunch experience, a luxurious spa day and a glamping weekend.
The anniversary campaign was amplified across Heinz UK social channels by Multiply and OMD UK with an always on content strategy to drive brand affinity. In addition to advocating the bus experience, content showcased the limited edition personalised cans and drive UGC by asking the nation what Beanz Meanz to them through the #beanzmeanzheinz
Aaron Crinion, senior brand manager at Heinz Beanz, commented: "We're celebrating 50 years of the Beanz Meanz Heinz slogan this year. Everyone has a view on what Beanz Meanz to them, which is testament to the tagline that continues to strike a chord 50 years later. To celebrate we wanted to discover and share exactly how much Brits love Beanz and this campaign really heroes this great British favourite."