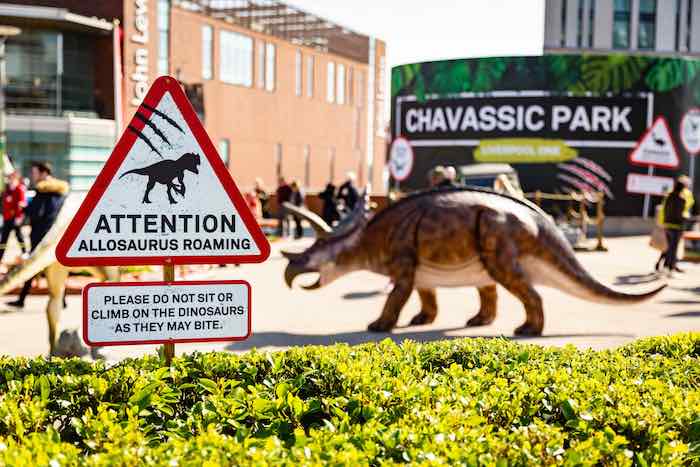 Newly released figures show Liverpool One's 'Dinosaurs Unleashed' enlivenment campaign boosted visitation and sales performance at the destination, signifying a bright future for physical-digital integration in retail.
As seen in statistics shared by Grosvenor Europe, the positive trends at Liverpool One over the campaign's ten-week period have contradicted declining UK industry averages over the same time period.
Launching on 29 March with a custom-designed augmented reality dinosaur experience, the enlivenment campaign triggered a rise in footfall at Liverpool One by 3.3%, as the UK average dropped by 4.6%.
In addition, Liverpool One's sales were up 4%, exceeding the national average of 0.7% for the campaign's period.  This rise was seen across cafés and restaurants, and the toys and games sector, directly reflecting the campaign's family focus.
Using the specially-created 'Dinosaurs Unleashed' App created by Red Frog Digital, visitors to the destination were transported back millions of years to discover dinosaurs, and could interact with the prehistoric creatures throughout the destination.  Working in collaboration with dinosaur educationalists, Teach Rex and National Museums Liverpool, the campaign converted Liverpool One into a haven for curious children, with dino-eggs and roaming Raptors coming to life within the app, and an array of model dinosaurs on Chavasse-ic Park.
The App was downloaded over 20,000 times during the ten-week campaign, and encouraging return visitation to Liverpool One by requiring user proximity to nurture the dinosaurs.
The 'Dinosaurs Unleashed' App also sparked an average user dwell time of almost two hours and generated a host of user-generated social media content, with a total engagement figure of 13.8k using #DinosaursUnleashed on Liverpool One's social media channels.  Liverpool One saw a 95% jump in newsletter sign-ups during the activation, and over 100,000 unique views of the campaign page on the website.
Donna Howitt, marketing and communications director at Liverpool One, commented:"' Dinosaurs Unleashed' has been our most innovative and ambitious enlivenment intiative to date, and its success highlights how digital can be harnessed to enhance and transform the bricks and mortar experience. It is the first time this type of gamification has been used in the UK, and the digital integration brought an exciting new dimension to Liverpool One for our visitors to explore. We are thrilled to be at the forefront of such technology, and to see such a positive response from the public."
James Loveridge, commercial director at Red Frog Digital added: "As Europe's very first augmented reality visitor attractions App, 'Dinosaurs Unleashed' at Liverpool ONE is a testament to the added appeal this kind of technology can bring to a destination.  Monitoring real-time performance and end-user engagement were aspects we used to measure how successful the activation was, and we have also been able to identify that users travelled an average of 14 miles to engage with this virtual world.  It has been an exciting challenge for Red Frog Digital and shows the value the Liverpool ONE team place on the visitor experience."