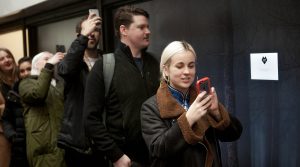 BrewDog backed craft distiller LoneWolf, has installed a free gin and tonic vending machine in London to give the capital's gin fans a chance to toast the upcoming end of Dry January.
The vending machine can be spotted in London's Old Street Station and will be dispensing cans of LoneWolf's signature gin and tonic on the 23rd and 24th January. Adults can get their free can by tweeting LoneWolfSpirits using the hashtag #TheWolfOfOldStreet to receive their own free token for the LoneWolf vending machine.
LoneWolf's latest venture is a nod to the history of gin's prohibition in the 1800's, which led to the invention of covert vending machines. London's bar owners would create hidden slots that would dispense shots of gin to those in need of a dram.
The LoneWolf Gin and Tonic vending machine despensed cans from 12:30 – 22:00 on the 23rd and 12:30-17:00 on the 24th January.
This latest venture is part of a three day takeover of Old Street Station which sees LoneWolf hosting a two-night immersive supper club, complete with a spirits-infused menu to mark this year's Burns Night. Lone Wolf vodka and gin have both been carefully incorporated into the Scottish-themed menu.
Doug Bairner, managing director of LoneWolf commented: "Gin distillation is something that runs through the veins of London's cultural history and this vending machine installation gave us the ideal opportunity to combine innovation with the cunning wisdom of the past to unleash our LoneWolf Gin and Tonic cans on London.
"It took 192 unique distillations to perfect LoneWolf Gin, and our new gin and tonic cans are the latest manifestation of our dedication to delivering the perfect serve every time. Packing a punch at 8.8% ABV, these cans are the perfect ratio of our gin and bespoke tonic, which you can enjoy wherever you are."