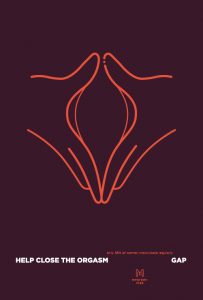 Studies and research show that among heterosexual couples, men have 3 orgasms for every 1 orgasm a woman has. That's 200% more, or a gap of 66%, equivalent to some of the worst pay gap figures released by firms in the UK last week, and is over double the UK average pay gap. Making it one of the greatest gender inequalities our society faces.
MysteryVibe, the brand behind the world's first body-adaptable smart vibrator, Crescendo, has launched a campaign to educate couples on the orgasm gap and how to close it. By practising more pleasurable sex for both, couples can develop more equitable, and more enjoyable, sexual relationships.
The campaign has launched as a series of three posters, each illustrating research on why the gap exists:
'Vulva Maze' — in a recent study, 25% of men were unable to even identify the clitoris, the centre of female pleasure, and only just over half could identify the vulva (61%).[3]  With only 25% of women able to orgasm from penetration alone. By highlighting the lack of knowledge in a playful way, MysteryVibe hopes to encourage more partners to focus on the clitoris, helping to close the orgasm gap.
'Fake Lips' highlights the fact that 76% of women admitted to having faked at least one orgasm. Sexuality journalist and researcher Peggy Orenstein says that "by faking an orgasm women are denying themselves the sexual satisfaction they deserve," making men think they have satisfied their female partner through penetration alone, which is only true for 25% of women.
'Self-Love' exemplifies the fact that only 38% of women regularly masturbate, while male masturbation is reported at around 96%. MysteryVibe's own UK study in 2017 found that men masturbate twice as much on average than women.[7] Since self-pleasure is a leading driver of sexual knowledge for women, that gap in experience and confidence also drives the orgasm gap.
Stephanie Alys, MysteryVibe co-founder & chief pleasure officer, said "When it comes to the orgasm gap, there's a lot of work to be done — not just in raising awareness, but in exploring the reasons why it's so hard for women to demand orgasms during sexual relationships."
Rob Doubal, co-president and chief creative officer at McCann London said: "Talk is rife at the moment about gender gaps, so MysteryVibe's timing is spot on in sending a powerful message about achieving equality in the bedroom for heterosexual couples. This campaign is one of a kind that will contribute in a major way to ending the taboo subject of the gender orgasm gap."