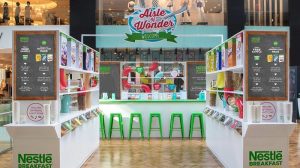 Nestlé Breakfast Cereals are mixing up breakfast time once again.  The  pop-­‐ up cereal experience, Aisle of Wonder will be back in action over Easter with a new twist on last years activation.
The experience will be at Westfield Stratford until 23rd April – visitors can start the day with a complementary pick and mix combination of Nestlé Breakfast Cereals which they can enjoy with a variety of toppings, milk and yoghurt. To mix things up even more, consumers will be able to take the experience a step further and can purchase a packet of Shreddies, Cheerios or Shredded Wheat, with their name on it for£3.
"We're delighted to be bringing the Aisle of Wonder back again this year. It's a fun, engaging experience that demonstrates the different ways you can enjoy Nestlé Breakfast Cereals. Also, we're particularly excited to be offering personalised cereal boxes for the first time" says Michelle Bull, marketing manager, Cereal Partners UK.
Agency Hot Pickle are behind the activation.