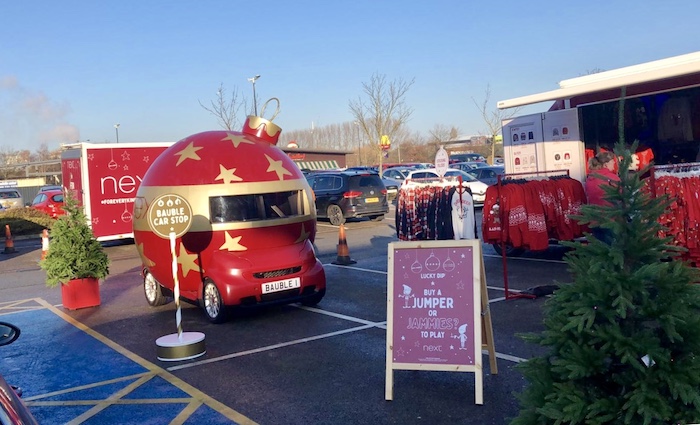 Leading retail and shopper marketing agency, Savvy, are excited to announce that it has been appointed to carry out a festive integrated, campaign for Next – bringing Christmas jumpers and jammies to the UK workforce.
As part of the campaign Savvy have created a pop-up experiential experience to entice Christmas shoppers and office workers. This will hit the road from Saturday 30th November, travelling on to 13 locations – from Edinburgh to London and cities in-between – spreading festive cheer. The tour will culminate at Kings Cross station on Friday 13th December – Save The Children's national Christmas Jumper Day. All locations on the tour will be collecting for the charity, with 100 percent of donations going directly to them.
The highlight of the #foreverykindofchristmas experience will be the gigantic bauble car which everyone will have their chance to have their picture taken with. Consumers purchasing jumpers or jammies on the day will get the opportunity to decide if they have been 'naughty' or 'nice' this season, and have the chance to win a range of Next treats including gift cards, Hotel Chocolat gifts, tote bags, cosmetics and chocolate coins.
A spokesperson from Next said: "It has been great to work so closely with the Savvy team – to see initial ideas on paper come to life over the past few months. I can't wait to see the Bauble car on the road and bring our festive jumpers and jammies to the whole of the UK, all whilst supporting a fantastic charity."
"Shoppers are increasingly time poor especially at Christmas," said Catherine Shuttleworth, CEO at Savvy. "This activation is designed to make some of your Xmas shopping simple, easy and fun with support for Save the Children's Christmas jumper day campaign. Taking the next retail experience to locations across the UK will create fun seasonal experiences for shoppers."
The tour plan for the Next Bauble Car is as follows:
Saturday 30th November: Next store Liverpool, Racecourse Retail Park, Liverpool L9 5AN (just bauble car)

Sunday 1st December: Next Store Edinburgh, Unit 10 Pentlands Retail Park, Straiton Mains Road, Edinburgh EH20 9PW

Monday 2nd December: Edinburgh Castle Street (first full retail set up)

Tuesday 3rd December: High Bridge Business Park, Newcastle Upon Tyne NE27 0QJ

Wednesday 4th December: Central Square Leeds, LS1 4DL

Thursday 5th December: Towers Business Park, Manchester M20 2YY

Friday 6th December: Solihull Parkway, Birmingham Business Park, B37 7YN

Saturday 7th December: Next Store Leicester Fosse Park LE19 1HX

Sunday 8th December: Next store Nottingham Giltbrook, Ikea Way, Giltbrook, NG16 2RP

Monday 9th December: Volkswagen Group UK, Yeomans Drive, Milton Keynes MK14 5AN

Tuesday 10th December: Exchange Tower, Harbour Exchange Square, Canary Wharf E14 9GE

Wednesday 11th December: Merchants Square, Paddington W2 1AS

Thursday 12th & Friday 13th December London Kings Cross Station, Euston Road, N1C 4TB