Train company Northern has launched a £2 million integrated marketing campaign, spanning TV, radio, out-of-home, digital, employee engagement, PR and experiential.
The campaign is the biggest Northern has ever run and the activity reinforces its new 'We are Northern' positioning, highlighting the lasting memories a great day out by train can create.The main objectives of the campaign are to increase brand awareness, grow off-peak leisure travel, drive online sales and app downloads and generally maximise return on investment amongst its target audience of young people, young families and empty nesters.
Messaging aims to inspire and excite people living in the region about the  destinations which are less than an hour by train away from them, using imagery and words which tap in to Northerners' wit and warmth, pride in their culture and landscape. A 30 second TV advertisement features footage of a range of people enjoying emotional and memory-creating adventures across the Northern region. A voice over says: "We are trail-blazers, roof-raisers, proper star gazers… We are tryers, savvy buyers, total freestylers… Legends of the big screen, heroes of the music scene… and ends with the strapline: 'Your next great day out is closer than you think… We are Northern… We are Destination Summer."
The campaign is running across paid-for media including TV, radio, posters and online, supported with messaging on owned media including Northern websites and emails, stations, trains and train wraps and a major employee engagement push. Social media, mainly Facebook and Twitter, and User Generated Content is also being leveraged, with passengers being encouraged to post about their trips.
The first ads based around 'We are Northern' are a series of summer-specific brand-raising executions which kicked off at the beginning of July, in advance of the school holidays. A second wave of destination-specific ads started airing on local and regional radio from July 24th, backed up with PR and experiential marketing, covering the major destinations Northern can take people to across the region, including historic towns and cities such as Manchester, Leeds, York, Carlisle and Blackpool.
Phil Gates, interim head of brand and business development for Northern, says: "Our new marketing campaign isn't about the heritage of rail or the service; it isn't even about the journey. Instead, we are focusing on the emotional benefits people get from a great day out. The best thing about using Northern's trains to explore what the North of England has to offer is going to be the memories created."
The brand positioning and marketing campaign has been put together for Northern by creative agency Oliver in Manchester with media planning and buying handled by MediaCom in Leeds. Oliver won the creative business after a seven-way creative pitch, organised for Northern by Pete Davis at Get Me Media, while MediaCom beat one other contender for the media account.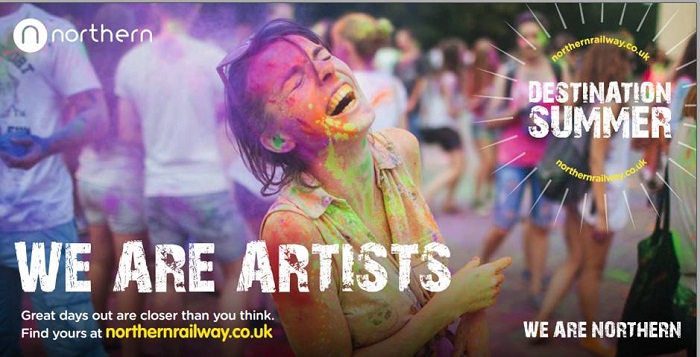 Sharon Whale, chief executive officer, Oliver Group UK, said: "We launched Oliver Manchester to provide proximity, effectiveness, and brand-immersed teams for clients in the North. To have been appointed by Northern and then to lead the creative for its biggest campaign to date is a fantastic step in further establishing our credentials outside of London.
"There's so much to see and do in the North that people may not be aware of. We wanted to capture those moments in the creative, many of which revolve around enjoying the great British outdoors, and communicate the personality of the North – all of which can be enjoyed via a train journey with Northern."
Simon Price, managing director of MediaCom in Leeds, said: "We are delighted to have been selected to support Northern in using a mix of media communication channels to inform passengers about the memorable days out that they can enjoy by rail.
"This is a really exciting appointment for MediaCom Leeds and one which plays to our strengths as an agency which works alongside clients to devise campaigns that deliver genuine business benefits."
Arriva Rail North Limited operates the Northern franchise, which is the second largest in the UK and it will run regional and commuter services across the region until March 2025.
Arriva Rail North Limited (Northern) provides 2,500 local and regional train services every day across the north of England, serving a population of nearly 15m. There are now 96million passenger journeys made on our network each year.