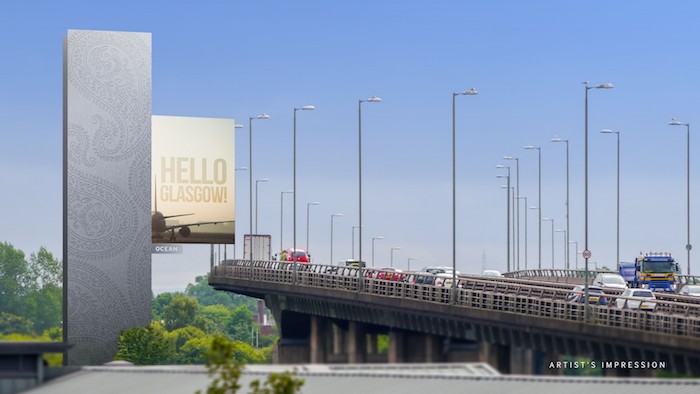 Ocean Scotland and AGS Airports have launched Scotland's number one advertising tower on the country's busiest road which connects the nation's two biggest cities.
The double-sided advertising screen will deliver more than two million impacts a fortnight as motorists and their passengers travel in both directions along the M8 motorway corridor between Glasgow and Edinburgh.
With its unique proximity to Glasgow International Airport, the M8 Tower will also capture almost all the airline passengers who arrive and depart by car. The airport carries more than 9.9 million passengers a year, travelling to and from more than 100 destinations.
The 40 metre high tower becomes operational in May.
Ocean Scotland managing director Marc Keenan said: "The M8 Tower is the gateway to Scotland's biggest urban economy. It's a ground breaking structure which marks a new era in airport and roadside advertising.
"It's another milestone in Ocean's digital cities for digital citizens proposition and confirms our position as a leading provider of super premium technically enhanced urban advertising designed to be the highest gross rating sites for audience delivery."
Francois Bourienne, chief commercial officer for AGS Airports Ltd, owners of Glasgow Airport, said: "We are very pleased to partner with Ocean Scotland given the company's position as one of the country's leading suppliers of large-format outdoor digital platforms.
"Ocean brings innovation and energy to this partnership and has a proven track record of delivering iconic digital advertisings at key city locations across the UK. The Tower is ideally positioned on one of the busiest stretches of motorway in the country serving our biggest city, which will make it a prime location for advertisers."
It is fitted with a dynamic lighting structure to deliver creatively enhanced brand campaigns and decorated in the world famous "Paisley Pattern", in homage to its location in Paisley, Renfrewshire.  Paisley has a rich heritage as a centre of textiles and material design.
The tower will also reach local traffic with smaller light boxes which will be used for public information messages from Renfrewshire Council.