Good Ship Benefit will be open for five months from 9th April 2016. Visitors will be transported from Benefit's home of San Francisco, to tropical beaches via the secret lair of spy gal. With three decks of immersive experiences.
The Good Ship Benefit at the R.S Hispaniola and located at Victoria Embankment will be divided up into five rooms.
The Brow Lounge: After visiting one of Benefit's beloved brow experts on the first deck for a signature service, girls will be able to show off their wow brows and indulge in a luxurious afternoon tea, rounded off with a glass of bubbles.
The POREfessional Vault: after stepping through the door into Spy Gal's lair, the secrets of flawless skin will be unlocked. The 1960s, spy-chic space is the place to avoid makeup slippage and seek out that flawless finish while sipping on a cocktail created by head barman, Matt Rescue.
Lashitude at the Upper Deck: With the London Eye and the Houses of Parliament in full view of Good Ship Benefit's leading restaurant, it may be London outside but on deck three, girls will be transported into a world inspired by Benefit's award winning mascara, they're Real.
Hoola Decks: Bringing the beach to the boat are the Hawaii-inspired Hoola decks. The luxury decks come complete with Tiki huts and cabanas where girls will be able to sip cocktails from the beach bar, served by one of Benefit's Hoola hunks. Fitness classes will also be taking place on deck.
The Pinkton Parlour:  guests will be transported to the land of laidback fabulousness and can watch the world go by on the River Thames while drinking cocktails or coffee.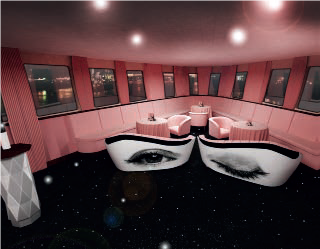 All five rooms will be open from the date of launch with more  rooms, new products and exclusive experiences to be revealed throughout the five months. During this time, Benefit will be spreading its feel-good approach to beauty by offering guests the opportunity to donate to charities Look Good Feel Better and Refuge, who help women and girls facing times of adversity. Guests who climb on board during the month of May and have their brows waxed can donate via text and will receive a complimentary Gimme Brow (worth £18.50).
Experiential specialists, The Persuaders, spearheaded the design and construction which helped turn R.S. Hispaniola into Benefit's new home on the River Thames.
The Persuaders creative director Andy Macdonald says: "This is a very exciting project for us to work on. Not only are we producing an extended pop-up in an unusual venue, but working with Benefit Cosmetics means our creativity is allowed to somewhat extend beyond the normal boundaries. We're very fortunate to have a client who encourages us to play with their brand in a creative way. From the project conception, we've shown them some really exciting and different visuals and as always we aim to deliver on this creativity."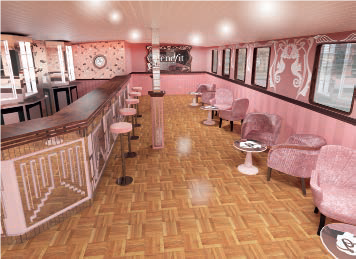 Consumer PR agency, DeVries SLAM, who has worked with Benefit since 2014, will provide strategic PR support for Good Ship Benefit. DeVries SLAM director, Jamie Posner, explains how this activation builds on those which have made Benefit famous in recent years.
"There's no denying that in order for brands to make a truly impactful statement and cut through the noise you need to think big! While the successes of Gabbi's Head and Curl's Best Friend were unsurpassed, we needed fresh thinking to create a moment for the brand that hadn't been seen before. Launching Good Ship Benefit in collaboration with Benefit Cosmetics and The Persuaders has been an exciting challenge which DeVries SLAM was proud to take on in order to make Benefit famous – again!"
Commenting on the agency involvement, Benefit Cosmetics' head of PR and events, Kyra Oates says: "We're pleased to be working with DeVries SLAM and The Persuaders again this year for this exciting brand activation.  From the past successes of the Gabbi's Head and Curls Best Friends pop-up, we can't wait to welcome our Bene guys and gals on board this spring."