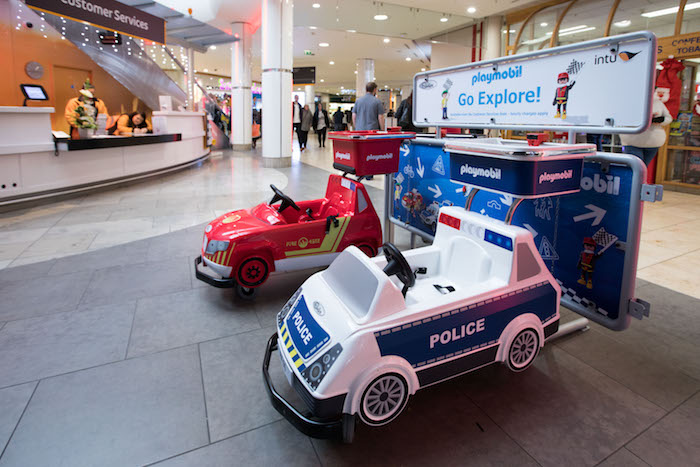 Retailers at five intu shopping centres will benefit from increased shopper engagement and footfall on the back of a partnership between the owner of the shopping destinations and toy brand Playmobil.
Playmobil fun buggies have been rolled out at intu Trafford Centre, intu Lakeside, intu Metrocentre, intu Merry Hill and intu Braehead as part of the sponsorship deal to bring the toy brand to life for millions of children in the run up to Christmas. They will have the chance of becoming a Playmobil character by choosing between a police or fire car in which to cruise the malls as their families shop.
60 fun buggies have been exclusively created for the ongoing partnership between the two brands. intu and Playmobil have previously worked together on Christmas Grotto and play zone experiences and Playmobil is the official sponsor of intu's new family club which has 64,000 young members.
Roger Binks, customer experience director at intu, said: "This is another fun way for children and adults to immerse themselves in the world of Playmobil as part of their day out experience at an intu shopping centre.
"intu centres welcome a million visitors a day and are some of the most popular destinations for young families. We've been working closely with Playmobil over the last few years to create new ways for their brand to flourish with us."
Jamie Dickinson, marketing and display manager at Playmobil UK, said: "At Playmobil, we're always keen to partner with the owner of high footfall destinations like intu where we can create something really special for children who love the brand as much as we do. The fun buggies that will be arriving into these shopping centres are going to allow children to engage in free play while promoting the brand."
The campaign is also being sponsored by advertising on escalator wraps and pillars at intu shopping centres.