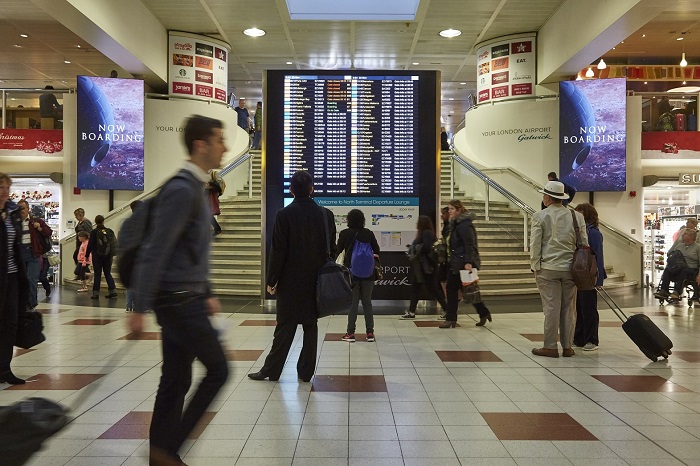 Primesight and Gatwick Airport will be immersing passengers in an inter-galactic experience in an exclusive media collaboration with World Duty Free and Disney UK, as they bring an experiential campaign to both the North and South terminals to promote the launch of Rogue One: A Star Wars Story.
More than five million passengers will engage with Rogue One: A Star Wars Story through Primesight's airport media estate during the seven week campaign (during the key Christmas period for travel and retail spend), with Gatwick Airport acting as the travel launch pad for the experience of the film, which is released in UK cinemas on December 15.
The campaign will consist of media across the entire spectrum of Primesight's media estate, including classic and experiential assets, as well as extensive, contextual digital domination across the airport, providing the first truly bespoke messaging from departures through arrivals.
Passengers will be transported through the Rogue One: A Star Wars Story experience from the very beginning of their journey, greeted by floor to ceiling creatives promoting the film and driving customers into the World Duty Free stores. The Gatwick Gateways dominate as they enter the South terminal, followed by bespoke airport-related content at each stage of the passenger journey. The experience continues into the international departure lounge with exclusive Star Wars and Rogue One: A Star Wars Story merchandise available in the World Duty Free stores, alongside an exclusive virtual reality in-store experience to drive deeper consumer engagement.
Once passengers enter the international departure lounge, they find themselves in the heart of the campaign, with an experiential showcase of the actual costumes from the film, surrounded by bespoke digital copy. As part of the digital domination of the airport, the Rotator Screen, the Pillars and the Landmarks in the lounge will all feature bespoke call-to-action messages. In an area with heightened dwell-time and interaction levels, one of the digital screens will also feature a Disney Twitter feed to drive social media engagement.
Sarah Parkes, managing director of Primesight's Airport team, said: "This fully immersive campaign is an exciting opportunity to showcase the creative possibilities of Primesight's Gatwick Airport media estate. It has been a privilege to collaborate closely with World Duty Free, Disney UK and Gatwick Airport to deliver such an ambitious campaign ahead of the Rogue One: A Star Wars Story release in cinemas, and inject the thrill of that Star Wars magic into the passenger journey from the moment they enter the airport."
Concluding, Sue Gosling, marketing director UK, Northern, Central & Eastern Europe at Dufry owned World Duty Free commented: "From a marketer's perspective this project has been a dream. Together with Primesight and Gatwick Airport, World Duty Free has delivered another first in travel and UK retail, with a fully immersive campaign at every touch point of the passenger journey. We pride ourselves on delivering exclusives and firsts that surprise and delight our customers and this is our biggest activation to date."