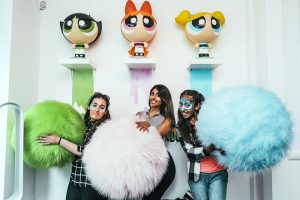 New research reveals that only one in ten of all Superhero films have a female lead, and with brand-new episodes of The Powerpuff Girls on Cartoon Network, the ultimate sugar spice and all things nice squad  opened a Powerpuff Emporium in Central London, to celebrate kick-ass girls everywhere.
Located in Soho, London – the three-day immersive experience, created by Produce UK for Cartoon Network in collaboration with Hope & Glory PR, was unveiled to the public and featured a series of immersive zones to explore. These included a make-up and nail bar, complete with its own punchbag, a PowerpuffYourself area with its own colouring wall, snake and rabbit petting and a power science café where visitors could experiment.
Designed as a celebration of all things super cute and super fierce, as embodied by the Powerpuff Girls since landing on our screens in 1998; characters Blossom, Bubbles and Buttercup made a special guest appearance at the Emporium; showing kids and adults alike how to superhero – the super-fierce way.
The Emporium was open to the public from Thursday, 1st June until Saturday 3rd June at 15 Bateman Street, Soho, London, W1D 3AQ from 11:00am until 5:00pm.