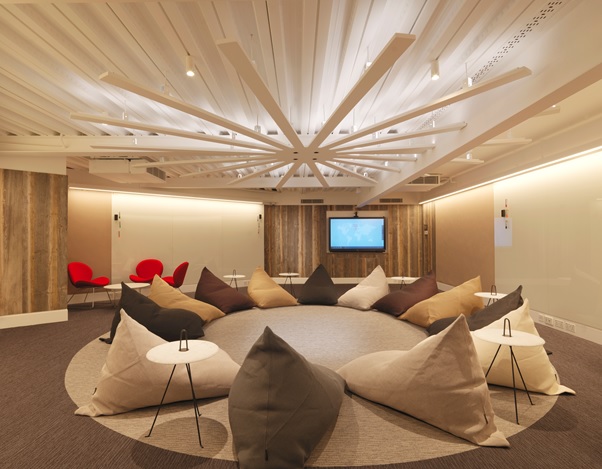 The Radisson Blu Edwardian London, Heathrow hotel, owned and managed by Edwardian Hotels London, is launching a 'Brain Box' room. The new facility provides a meeting space designed to encourage and inspire guests' working efficiency and creative thinking.
The breakout room combines simple solutions such as flexible furniture layouts and Squiggle glass, allowing guests to write ideas on walls, technology such as Barco Click, a USB connected button that allows users to share their screen in one click, and Samsung 65inch touch screens. The offer provides an environment for flexible working, brainstorm sessions and more traditional meetings.
The features and design of the room are based on the growing trend for environments that encourage innovative ideas. According to recent research, 65% of people feel that environments designed to enhance thinking have a positive impact on the performance of their organisation. In addition, 95% found that these spaces consistently provide better ideas, solutions and decisions, productive working relationships and produce a positive impact on performance indicators or organisations.
Simon Wong, general manager, Radisson Blu Edwardian Heathrow, said: "The Radisson Blu Heathrow has always prided itself on providing excellent meeting space near the UK's largest travel hub, making it a convenient choice for international visitors as well as domestic. However, now we're able to build on that experience and offer a unique and exciting space with the latest technology to become a catalyst in creative thinking and work."
The space utilises multiple forms of interaction, including VGA and HDMI cables for presentations, as well as Microsoft Skype Business applications and Freeview TV, Sony PlayStation, Xbox and Blu Ray, the combination of which allows for meetings to be more efficient, engaging and spontaneous.
Based on the famous quote from Albert Einstein, 'we cannot solve our problems with the same thinking we used when we created them', the space can be modified from a standard meeting set-up to a creative environment depending on individual needs.
Edwardian Hotels London has previously been announced as the first hospitality group to partner with Imperial College London's Business School.
Bruno Cotta, director of Imperial's new Enterprise Lab and Visiting Fellow at the School, commented: "Having a variety of technology diversifies not only the way people communicate with each other, but also the way they communicate with those not present. It is good to see not only the next generation of work related technology incorporated into this space, but also the consumer platforms. It often helps that users see familiar tech from the home environment, to break down barriers and encourage more relaxed, original thinking. We use a similar approach at the Enterprise Lab, where staff, students and visitors can engage with personalised technology such as Amazon's Echo, but also state-of-the-art and life-size touch screen displays that get them out of their chairs and thinking on their feet."