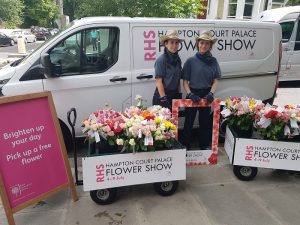 To raise awareness of RHS Hampton Court Palace Flower Show, 4th-9th July (RHS Member's Days 4-5 July) and RHS Flower Show Tatton Park, 19th– 23rd July (RHS Member's Day 19 July), RHS will be giving away a total of 37,750 roses in various locations across London, Manchester and other areas local to Tatton Park.
The giveaways will be supported by a social competition which entitles the 'Best Photo of the Day' winners to a pair of free tickets… that's a total of 14 free tickets up for grabs as well as well as special ticket offer for everyone who receives a rose.
The campaign, which will travel around various areas of South West London including Wimbledon and Richmond over the week (24th June- 3rd July), has been created and managed by stunt and content agency House of Experience.
Maisie Richardson, Marketing and Social Media Manager, House of Experience commented: "We're definitely on the way to setting a record of some sort… Watch this space!"
Caroline Priest, Marketing Manager, RHS Flower Shows, commented: "We're really excited about the rose giveaways to promote these two great RHS Flower Shows. We hope that receiving a rose will brighten up people's days. Thanks to all at House of Experience for their work on this campaign."