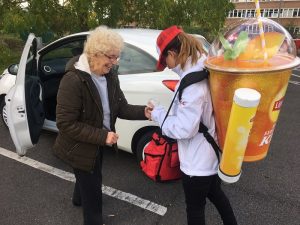 Shopper Marketing and Retail Activation agency, Savvy, is extending summer by telling the nation that Lipton is now served in KFC with a 5-week outdoor mobile sampling campaign visiting 100 KFC restaurants over a weekend period.
As Autumn arrives, Lipton is handing out free samples to consumers visiting KFC across the UK. Shopper insight has highlighted that although there is not a great awareness of Ice Tea as a category, once consumers try Lipton Ice Tea, there is a high conversion rate due to its refreshing taste profile. Therefore, trial has been key in announcing the launch of Lipton into KFC, ultimately delivering positive growth.
Savvy were tasked to deliver a sampling campaign that would get Lipton Peach placed directly in the hands of the customer on the KFC forecourt. The sampling teams have been armed with disruptive portable jet packs that have been transformed into a giant cup of Lipton Peach, insulated to provide a perfectly chilled taste of Lipton. Consumers have been targeted on their way into the outlet as well as the drive-through lanes to encourage selection of Lipton as their chosen choice of drink with their meal.
A branded credit card sized voucher has also been encouraging consumers to download the KFC Colonel's Club app to receive 2 free hot wings or a free Lipton on their next visit, ensuring the campaign lives on past the sampling activity and is able to provide a measurable result that will also be self-executing for the consumer and successfully introducing a new audience for KFC to speak to more directly and effectively.
Savvy's account director,Kim Jacks comments: "Lipton has a great starting point as we already know the conversion rate into Lipton is so high when trialled effectively. By partnering with KFC, we are able to offer a tasty alternative in soft drinks for the KFC target audience. It's exciting to see such a positive response from consumers already and we look forward to celebrating at the end of this final weekend in Manchester on Sunday."
Assistant brand manager at Britvic, Jess Harris said: 'it's great news for all that Lipton is being served at KFC. We're excited by the campaign, especially the disruptive jet pack which allows us to find the heavier footfall areas dependant on the time of day and drive traffic into KFC outlets. This campaign will help us deliver awareness of Lipton and ultimately ROS as we look to grow the brands market share within KFC.'
Charlotte Adams, brand manager at KFC UK & Ireland adds: "We're really pleased to be working with Lipton to offer our customers a broader choice of soft drinks. It's a great campaign that we're all hugely proud to be a part of."