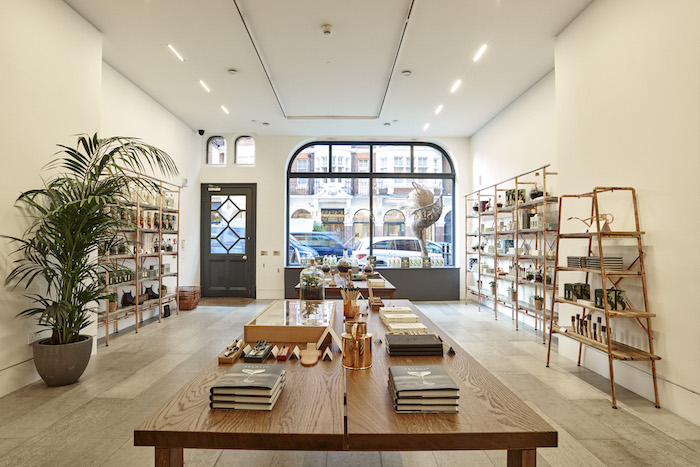 Seedlip, the world's first distilled non-alcoholic spirit, has launched a pop-up shop and bar. Situated in a two-tiered space in London's Mayfair, Seedlip's General Store & Bar allows guests to enjoy a cocktail while Christmas gift shopping. In addition there is a full programme of creative workshops inspired by nature and the art of cocktail making.
Curated and designed by Seedlip, the  minimal copper interiors, of both store and bar, pay a clear aesthetic homage to both Seedlip's attention to detail as well as the brands adoration for nature. The world's first distilled non-alcoholic spirit was created by Ben Branson in 2015 in his woodland kitchen, with a small copper still and with a seventeenth-century copy of The Art of Distillation.
Seedlip's General Store boasts an eclectic selection of items including Seedlip's non-alcoholic spirits and cocktail book, home & barware and literary treasures. Everything has been  curated to capture the brand's style; from potting shed chic through to classic minimalism. The full portfolio of Seedlip expressions – Seedlip Garden 108, Seedlip Spice 94, Seedlip Grove 42 – will be available, including miniature 20cl bottles for the perfect stocking filler as well as gift sets. Art, botanical candles, gardenware, house plants and terrariums will also be amongst the items available to purchase.
Descending into the basement bar, guests are immersed in the delights of all things alchemy. Seedlip's bar serves a selection of non-alcoholic cocktails including Seedlip's award winning NOgroni and hot toddies; providing much needed warming comfort on the long winter days.
A full programme of innovative workshops is running throughout the month including cocktail masterclasses, inspiring speakers, London Terrarium workshops and the opportunity to embrace seasonal flora in the Christmas Wreath workshop.