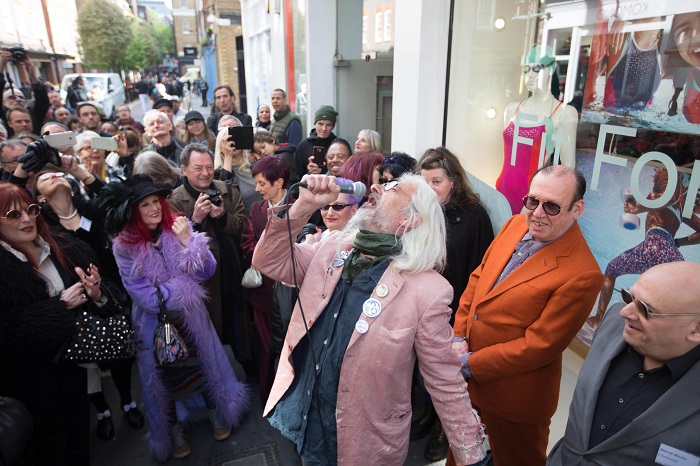 The Seven Dials Trust unveiled a Roxy Club plaque on April 25 to celebrate the history of the iconic punk era at Seven Dials, sponsored by Shaftesbury.  As part of the Trust's on-going People and Street History Plaques project it was placed at 41-43 Neal Street, marking the location of the infamous venue forty years since its opening.  A free exhibition is being held alongside the unveiling, showcasing historic music moments until May 10.
At 3pm, the plaque was formally unveiled by special guests Gaye Black of The Adverts, Pauline Murray of Penetration, the former owners Suzanne Carrington and Andrew Czezowski, Jordan Mooney and Tessa Pollitt of The Slits and The Seven Dials Trust.  Interviews were then held on-site between the press and the founders of Roxy, Andrew and Susan launched the world's first duography book 'The Roxy' earlier this year, based on their personal experiences and memories of the club.
The Roxy Club was the only venue in London dedicated to promoting and supporting punk music from 1976-78 and renowned for launching the musical careers of famous punk bands including The Clash, The Damned, Siouxsie & the Banshees, Generation X, The Buzzcocks and The Slits.
David Bieda, the Seven Dials Trust's chairman said, "Our People's Plaques celebrate individuals and institutions who have made a contribution to London and beyond. They vary from the Roxy to Lionel Lukin, royal coachbuilder and inventor of the lifeboat. Twelve out of twenty-nine are sponsored so far and they can all be seen on the Trust's website."
Commenting the unveiling, Tom Welton, executive director from Shaftesbury, added: "We are very proud to commemorate the ROXY club in this way and permanently acknowledge a special part of history at Seven Dials.  It celebrates the individuals who created such a popular London institution and we were thrilled to have Andrew, Susan and Barry here alongside us for the unveiling.  The opening night of the exhibition was received very well and will now be open to the public, creating yet another unique reason to visit Seven Dials."
"We continue to work in a long-term partnership with the Seven Dials Trust.  They are a valued and committed ally in preserving the history of Seven Dials for future generations and as landlords we ensure that it remains at present a West End destination like no other."
The free exhibition will run for two weeks from Wednesday 26th April – 10th May at 35-37 Neal Street, Seven Dials.  Fear and Loathing at the Roxy will showcase iconic moments of music history being made at the Roxy, as seen through the lens of legendary photographers Derek Ridgers, Ray Stevenson and Jeremy Gibbs amongst others. Artist and historian Jane Palm-Gold has curated the exhibition.