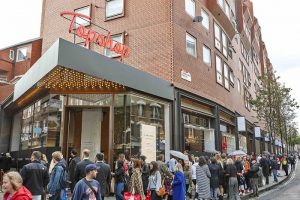 Central Cross, Shaftesbury's £15m development bordering Chinatown, Soho, Covent Garden and Leicester Square, hosted fashion retailer TOPSHOP's London Fashion Week show last weekend.
As the public's first glimpse of the 48,000 sq ft mixed-use development, Topshop launched its new season collection, to a guest list of global media, buyers, influencers and VIP guests. Over the course of the weekend, Topshop hosted events for other designers in the space, including Fashion East, House of Holland and Mary Katrantzou.
Prior to the event, on September 14, Shaftesbury utilised the opportunity to host an event with WGSN for property agents which included a retail trend talk on 'The Future of Retail'.
Commenting on the news, Sam Bain-Mollison, group retail strategy and leasing atShaftesbury, said: "As part of Shaftesbury's commitment to supporting new and emerging talent, and as patrons of the British Fashion Council, we were keen to host this spectacular event with Topshop in the most hotly anticipated development in the West End right now.
It was fantastic to unveil the potential of the development and we look forward to building upon the success of the event in the weeks and months to follow."
A spokesperson for Topshop commented: "The Central Cross space provided a strong backdrop to our London Fashion Week activity and offered real flexibility in delivering four runway shows. We were thrilled to be in the heart of Soho; a key inspiration for the Topshop runway collection."