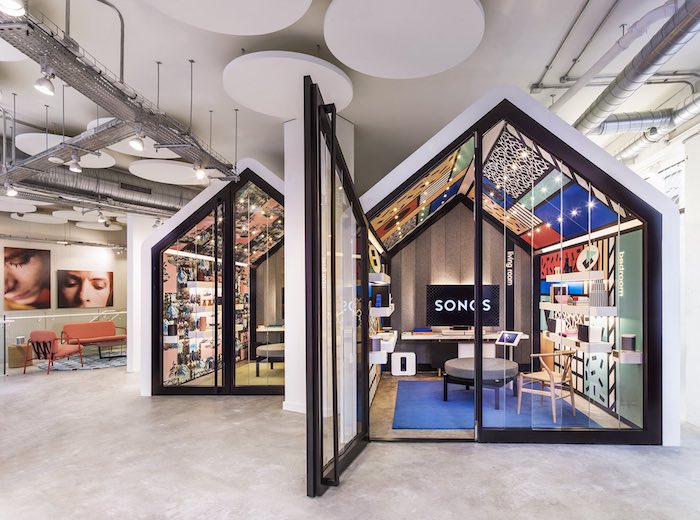 Sonos' has announced its first European concept store; a retail, exhibition, screening and listening space that will open its doors to the public on Thursday, 16th November 2017.
Located in London's Seven Dials, the store has been designed to replicate the home environment, and showcase how Sonos fits into any home environment.
Inspired by Sonos' flagship store in New York, it features state-of-the-art Listening Rooms – two acoustically-tuned, house-shaped structures designed to emulate a real multi-room home listening space. Guests will be able to stream their personal music to one or both rooms and create their own, unique sonic adventures.
In keeping with Sonos' attention to detail, the sonic and visual elements of the London concept store are tied to the city's own artistic culture, and have been inter-related from the outset, designed to complement the listening experience. Vibrant textures that improve the overall acoustics, custom bevelled glass walls to reduce bounce, hand-woven rugs and bespoke bookshelves, have all been carefully installed to help improve the sound.
Every space within the store had been sonically tuned by Sonos sound engineers, overseen by Sonos Sound Experience Leader, Giles Martin. This includes the store's custom built Listening Rooms, the smallest, audiophile spaces in London.
The Listening Rooms have been designed to look and feel like the ultimate home. For launch, Sonos worked with, London-based artists Camille Walala and Neil Raitt. Inspired by their experiences of using Sonos in their own homes, each artist has taken a Listening Room and added their own  perspective, with signature prints that cover the walls and ceilings.
Next year, Sonos will open up the Listening Rooms to further artists, providing them with a canvas to express their creativity, creating an evolving environment to discover and experience Sonos.
Guests can discover the home sound system that best fits their life, choosing from Spotify, Apple Music and additional major streaming music services, as well as any combination of Sonos speakers and components including the new Sonos One, the first Sonos product with built in voice control from Amazon's Alexa.
The space will play host to an ongoing line-up of listening events, screenings, cultural talks and installations. The first of these events will celebrate David Bowie. To mark the release of the first-ever voice activated speaker, the Sonos One, the brand wanted to honour his unique voice by collaborating with cultural commentator, Paul Gorman to curate a display of rarely seen images of David Bowie's London life taken by photographers including Mick Rock, Brian Duffy, Rolf Adlercreutz (Alamy) and Mike Maloney. Alongside this, on the 15 & 17 November Sonos presents Song Stories: Bowie – a series of intimate events hosted by Miranda Sawyer, honouring David Bowie's work and legacy, as told through the powerful stories of artists and fans alike, including Nick Rhodes, Goldie, Graham Coxon, Carl Barat, Peaches and Rostam. The events will lend a voice to creators inspired and influenced by Bowie, and give fans the opportunity to hear their original stories paired with the songs that best accompany them.
Opening weekend, NTS Radio will be broadcasting live from the Sonos London store on Saturday 18 & Sunday 19 November, with a full 16hr programme co-curated by DJ's Ross Allen, Charlie Bones, Nabihah Iqbal and Bullion with friends and special guests consisting of mixes, interviews and interesting conversations inspired by and celebrating the life of David Bowie.
Whitney Walker, general store manager at Sonos said "The entire store experience is based on the idea of being in a really comfortable and inspiring environment. We're proud to be opening our first European concept store in London, providing a dedicated space for music fans to create, connect and ultimately discover the best ways to listen to music out loud.
Whitney continues: "We have carefully considered how people bring music into their home environment through curation, and used it within the concept store to pay homage to the great city of London and the culture that was born here and continues to inspire the world. Our passionate staff look forward to opening the doors to the public and can't wait to provide the capital with world class Sonos service."
Commenting on the UK debut at Seven Dials, Sam Bain-Mollison, head of group retail strategy and leasing at Shaftesbury, said: "Sonos is one of the most exciting brands in the world and we are thrilled they selected Earlham Street for their UK debut.  It is a significant launch for Seven Dials that adds to the authentic, cultural appeal of the destination.  More than that, however, it is a clear affirmation of the importance of bricks and mortar retail in allowing brands to deliver an engaging experience with their customers, that simply cannot be achieved online alone.
She adds: "Sonos will provide a truly new immersive experience within an area where leading international brands rub shoulders with a mix of independent shops, restaurants and boutiques.  This is in firm alignment with our strategy for Seven Dials of creating an influential and unique mix of retail and dining in the heart of London's West End."
With further European concepts planned soon, including a Berlin store in 2018, as well as our exciting new range of voice activated products, Sonos is committed to continually developing new and exciting ways to help music lovers get the ultimate home listening experience.