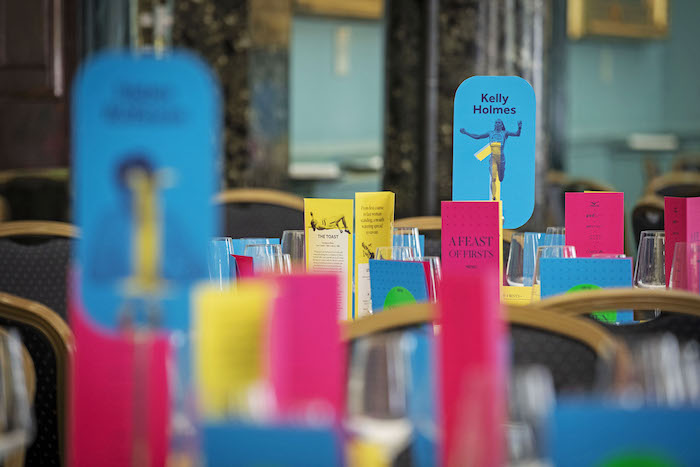 Start Design reveals its First Women concept for this year's Sports Podge – one of the main cultural sports marketing events in the annual sporting calendar, at the prestigious Institute of Directors on Pall Mall.
Now in its 14th year, Sports Podge invited over 250 of the most influential leaders in sports and sports marketing, to celebrate a fun-packed day, with a powerful message at its heart.
Sports Podge is focused on celebrating the passion, personalities and friendships forged through sport, but it is also one of the most unique cultural industry platforms for raising the awareness of many powerful facets of the sporting world.
This year's theme was designed to help push the agenda and raise the voice for women in sport, to help change attitudes and improve future opportunities. With attendees including the likes of Charlotte Cooper, Kathrine Switzer and Nadia Comăneci to Kelly Holmes, Ellie Simmonds and Clare Balding, the sporting stories cover disciplines such as swimming, sailing, tennis, sprinting and coaching, and focussed on bringing female empowerment to life.
The design direction was inspired by original sports newspaper publications, using bold headlines, and eclectic typography, set against a backdrop of vibrant Olympian colour. The designs were executed across a wide range of assets, from the website, to table settings to Instagram, (which will also be hosting the stories around the next 50 first women pioneers from 2019 onwards.)
Darren Whittingham, founder of Start Design, says: "The sporting world has always been inspired by women and it's time their pioneering stories were told to the full. Our First Women concept brings to life women in sport, throughout sporting history, celebrating female pioneers across every category from the 1900s to present day."
Senior account director at Start Design, Sarah Everard says: "We were determined to find as many opportunities during the event to tell the fantastic stories of pioneering women over the last century. We created an uplifting experience where everyone could engage with the inspiring content. Our aim was to deliver maximum impact and fun throughout the IoD, by developing a striking timeline of 50 chosen historical stories, throughout the venue and online."
Founder of Podge Events, Phil Jones, adds: "Every year we're thrilled to be supported by Start Design as the quality of their work is exceptional. With such an important theme this year, the agency delivered beyond expectations and brought to life stories of ground-breaking sportswomen in sport in a powerful, fun way. Seeing and hearing our guest's positive reaction to the concept was fantastic – and helped make our yearly event another success."