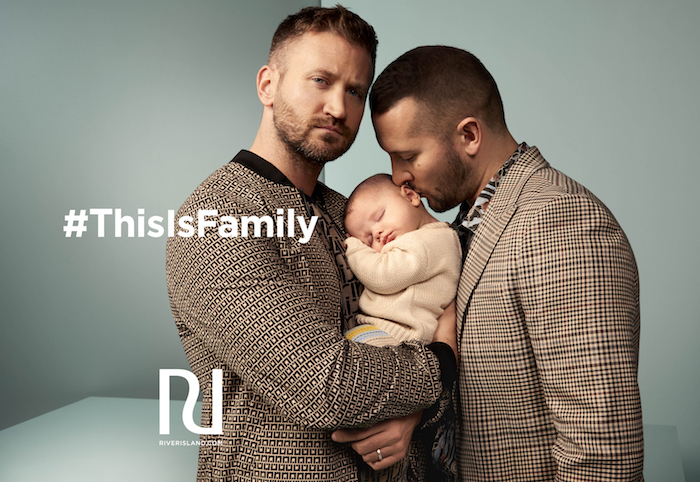 River Island will celebrate the diverse faces of the modern family in its new SS19 campaign created by integrated agency Studio Blvd. The #ThisIsFamily campaign celebrates the diversity of families, while challenging the notion of what 'family' means in 2019.
It follows in the footsteps of Studio Blvd's 'Labels are for Clothes' campaign for River Island – and continues to underscore the retailer's ongoing commitment to challenging outdated labels and stereotypes while celebrating inclusivity.
The #ThisIsFamily campaign focuses on imagery which is more accurately representative of the true modern family. The traditional nuclear family now represents less than one-third of families in the UK with blended families, non-biological families, multi-ethnic families, same-sex parent families and single-person families having grown significantly. But despite this, brands rarely represent families other than the traditional nuclear model.
As a family-owned and operated brand Studio Blvd recognised that River Island was the perfect brand to redefine and celebrate the modern family through a series of compelling images showcasing the love, pride and unity that makes up a family, no matter what form that might take.
Alistair Green, CSO at Studio Blvd, said: "As a single dad I know firsthand how it feels to be excluded from the traditional family paradigm, but myself and my two sons are as much a family as any other. The #ThisIsFamily campaign we created for River Island celebrates my family and many others that are nearly always overlooked." 
Green continued, "Once Studio Blvd recognised that less than a third of families in the UK fit the traditional label, we knew River Island as a family-owned brand was in a position to celebrate families of all shapes and sizes and help redefine the term for the modern world."
Victor Pyk, creative director at Studio Blvd, said: "River Island is a brand that always tries to be inclusive of their customers. With that ambition in mind we created the #ThisIsFamily campaign – a true celebration and redefinition of what a family is today – never predefined and always changing."
James Noel, CEO, at Studio Blvd, said: "At Studio Blvd we continue to find ways to help brands make a positive contribution to culture and society. #ThisIsFamily is yet another example of the agency identifying a cultural issue that couldn't be more relevant to a brand like River Island."
Angela Asiedua, head of brand marketing, River Island said: "Our #ThisIsFamily' campaign created with Studio Bvld seeks to re-address outdated labels and family stereotypes. At River Island, celebrating our customers alongside championing diversity and inclusivity is at the heart of everything we do as a brand. It's our hope that this new campaign continues that story."
#ThisIsFamily launches on February 4 and will run in-store and on River Island's owned channels as well as across digital and social.