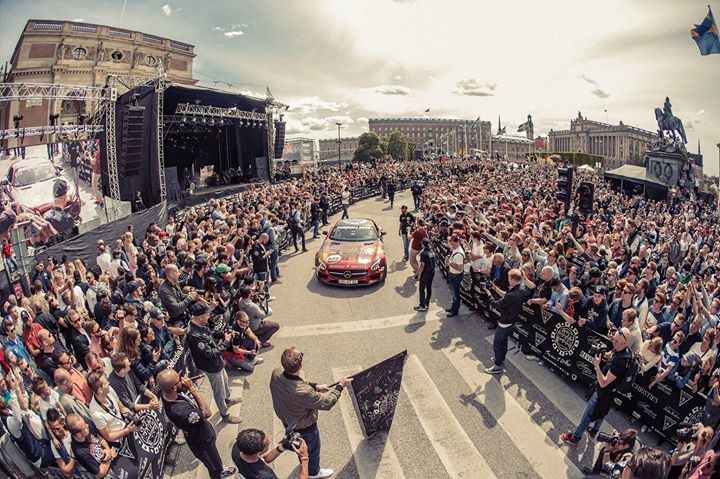 Sunbaba provided the stage backdrop  for the Wilde Ones at the 2016 Gumball 300 Rally in Regent Street on Monday 2nd May.
This was the second time in three years  Sunbaba supported  Wilde Ones.  The company supplied the artwork and Gumball logo whilst Sunbaba utilised one of their specialist materials to deliver the solution. Their Ultramesh product, with air permeable PVC material is durable and suitable for outdoor use, it was digitally printed with UV ink to achieve a high quality finish.
The flag went down for the 19th outing of Maximillion Cooper's Celebration of Cars, beginning in Dublin on 1st May. The London leg resulted in Regent Street being closed from 12pm until 10pm as 120 super-charged cars from the past, present and future of motoring descended. The 3000 mile drive then carried on across the continent before coming to an end in Bucharest on 7th May. Bugattis, Ferraris and futuristic concept cars were paraded along the iconic shopping street before a star-studded party attended by David Coulthard, David Hasselhoff and David Hayes.
Dean Parker, Wilde One's production manager said: "It is always a pleasure to work with Sunbaba, we have a good relationship as they perfectly understand our requirements and the Gumball Rally 3000 was no exception. It was a high profile project and we were happy to have them on board."